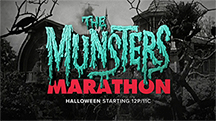 New York, NY (PRWEB) October 27, 2015
On Halloween night every partygoer will want to tune in to COZITV from Noon to Midnight to party with The Munsters, the timeless and iconic monsters we all grew up with and loved, as they debut TV's very first rock opera with five original songs re-imagining the episode "A Man For Marilyn" with trending tech.
The Munsters were our friends and neighbors – albeit a bit bizarre – in Mockingbird Heights, CA from 1964 to 1966 and they are back to help us celebrate Halloween 2015 with their fearsome and funny family – in some ways, far ahead of their time - with "Auto-Tune The Munsters" airing at 8pm and 11 pm during The Munsters Halloween Marathon. Fans can connect with them on Twitter @HermanMunster, @LilyMunster and on Facebook.
Click for excerpts from" "Auto-Tune The Munsters": A Rock Opera that will help get your Halloween off to a Monster start:http:// https://www.youtube.com/user/CoziTV.
For more on COZI TV, visit http://www.cozitv.com and follow COZI TV on Twitter and Facebook at http://www.facebook.com/cozitv. #Munsters #AutoTuneTheMunsters
# # #
About COZI TV
COZI TV is NBC's national multicast network designed to deliver an easy-to-watch, comfortable and familiar viewing experience to audiences across the country. COZI TV features many of America's most beloved and iconic television series, including Magnum, P.I., Hart to Hart, The Bionic Woman, Six Million Dollar Man and Lone Ranger, as well as classic hit movies. COZI TV launched on January 1, 2013 on the multicast channels of the NBC Owned Television Stations and is now available in approximately 88 million homes nationally or more than 75 percent of the U.S. COZI TV has 85 affiliates, serving nine of the top 10 U.S. television markets. COZI TV is programmed around the clock, including scheduled blocks of time each day for viewers to connect to their community with local news, sports and special events.
Press Contact: Barbara Pflughaupt – 212-707-8181 or Shawn Feddeman Cronin -212.413.5884