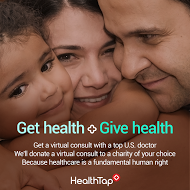 Keep all special thoughts and memories for lifetimes to come. Share these keepsakes with others to inspire hope and build from the past, which can bridge to the future....Mattie Stepanek
(PRWEB) July 15, 2015
Dr. Barbara Lavi, a Clinical Psychologist, friend and associate of the Blind Judo Foundation and author of The Wake Up And Dream Challenge book, is one of the top Doctors on HealthTap. Her clinical practice reaches beyond office visits, allowing her to make virtual house calls with patients needing her specialty. HealthTap's mission is to help millions everywhere live healthier, happier lives through easy, convenient access to doctors and medical expertise. With a Medical Expert Network of over 71,000 doctors, HealthTap's Virtual Consults help people get the care they need when they need it.
HealthTap's committed to health and well-being has been recognized by by Forbes, Fortune, The Atlantic and even Good Morning America. These doctors house calls are making a come-back with a high tech twist. Multitasking and busy schedules these days calls for Uber-like service when it comes to our health and having almost immediate access to a doctor day or night.
Thanks to Dr. Lavi's nomination, the Blind Judo Foundation's cause of enhancing and empowering the lives of the blind and visually impaired was found to be in alignment with the mission of HealthTap. Every time someone purchases a consult from HealthTap, the blind and visually impaired Judo students the Foundation serves will benefit from more affordable and convenient access to medical advice. The purchaser of the Virtual Consult can select one of a select few nonprofit organizations to receive a free virtual doctor consult.
"Is there a doctor in the house" says Ron C. Peck, Co-Founder of the Blind Judo Foundation "to ease anxiety when it comes to not only our own health but those athletes of the Foundation needing additional professional support." HealthTap can also be used for renewing prescriptions, diet plans and even medical reminders for those requiring discipline in following their prescriptions.
According to The Atlantic in 2014, the average primary-care physician has about 2,300 patients. He or she would never sleep but Ron Gutman, a Silicon Valley entrepreneur and founder of HealthTap sees a business opportunity called "find a need and fill it" says Ron C. Peck. More than 10 million people visit the HealthTap site every month and will have the opportunity to support the Blind Judo Foundation through their purchase of one-on-one calls with doctors.
Having a doctors at your fingertips is not only comforting and eases anxiety but supports this multitasking society we all seem to thrive in. It is interesting to note HealthTap enables its network of doctors to access Quest Diagnostics health testing services and patient service centers to deliver virtual care. HealthTap, a welcomed and timely addition to the 21st century.
About us:
The Blind Judo Foundation is a nonprofit 501(c) (3) organization that introduces and trains blind and visually impaired children, young adults and returning blind and visually impaired military men and women in the sport of Judo. Supporting our blind athletes to train, travel and compete relies upon tax-exempt donations.
All members of the Blind Judo Foundation are volunteers. A select few of our elite athletes go on to represent the USA as members of the US Paralympic (not to be confused with Special Olympics) Judo Team. Ron C. Peck can be contacted at roncpeck(at)blindjudofoundation(dot)org or 1-425-444-8256.