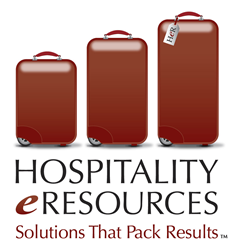 For us, the "e" is the foundation of our signature "always evolving" approach that provides our clients with an advantageous edge in helping thenm grow their businesses
Lake Worh, FL (PRWEB) September 24, 2015
With an all-encompassing new name and a shiny new website, the Florida-based full-service consulting firm specializing in Hospitality, Travel and Tourism "Hospitality eResources" (HeR Consulting) is capitalizing on the brand's "always evolving" approach, its forward thinking focus, and its expertise in Hospitality and Travel to help industry-related companies grow their businesses.
The new website officially launched today at HeR-consulting.com along with its brand blog, HeR Perspective, take the user experience to a new level. Featuring exclusive new content that will continue to be enhanced on an ongoing basis, the new online destination together with the blog have been designed with the ultimate goal of being a go-to resource for Hospitality and Travel industry executives and professionals to learn about and engage with colleagues on industry trends, hot topics and news. A user-friendly design also provides current and prospective clients easy access to updated information on the firm's experience, products and services, award-winning team and hospitality insights. In addition to educational opportunities, white papers, and presentations on topics of interest to industry pros, the company's blog will soon be introducing a new series of "Interviews from the Top" showcasing Q&A style insight from CEO's and high level executives sharing their expertise.
Over the past three years since HeR was originally established as "Hospitality Evolution Resources," the company has continued to advance, remaining at the forefront of the ever-changing Hospitality and Travel landscape to ensure that its clients always continue to reap the benefits of its time-tested strategies as well as new opportunities such as emerging technologies, novel marketing channels and new solutions that arise.
"We are thrilled to share our company's evolution showcased in our new name — Hospitality eResources – representing our commitment to providing clients with the insight and solutions to achieve their business goals," said Evelyne Oreskovich, President & CEO. "For us, the "e" is the foundation of our signature "always evolving" approach that provides our clients with an advantageous edge via our education programs and eLearning courses, electronic distribution expertise, and insight about engagement-driven technology and marketing. We have been able to provide effective consulting to a myriad of clients, enabling them to benefit from our experience and expertise, ensuring enormous value as the industry continues evolving."
Effective at bridging the gaps between Management, Operations, Technology and Marketing, HeR's team is successful in rolling out clearly-mapped deployments of new systems and technologies involved in the sale of hotel rooms, including but not limited to migrating to a new PMS or CRS, integrating an eBooking engine, developing a mobile app or planning a complete a website redesign and launch. Over the years HeR has also become well-known as industry experts in data protection and security (Personally Identifiable Information - PII), offering valuable insight and services aimed at protecting businesses and their customers' information. In addition, HeR specializes in providing customized education/training programs for all areas of the industry. Training is available on a variety of formats and is tailored to the specific requirements of the client. The firm also provides bespoke research, customized marketing programs, electronic distribution guidance, and much more!
Sign up via HeR-consulting.com to receive RSS news feeds and industry updates, including insightful articles from HeR executives as well as helpful "how to" tips regularly showcased on the company's new blog.
About Hospitality eResources
With more than 30 years of specialization in growing hospitality and travel businesses, Hospitality eResources (HeR Consulting), offers a comprehensive array of services and solutions as well as focused industry expertise to help hotels, resorts, lodging chains, hospitality and travel companies increase performance, profit, and return on investment. The company's industry-focused staff is effective at bridging the gaps between Management, Operations, Technology and Marketing to motivate teams and improve company-wide performance. For each project, HeR assembles the ideal team with qualified backgrounds best suited to achieve the project's goals on time and on budget.
The company's blog, HeR Perspective is a valuable resource to help industry professionals keep up with trends and enhanced their skills in the areas of marketing, social media, technology, distribution and client relationship management. For more information, visit Her-consulting.com.
###