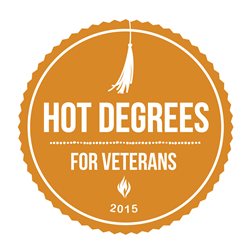 "Pairing our Hot Degrees for Veteranswith Hot Jobs for Veterans can help map out a pathway to civilian success." Sean Collins, VP Victory Media, 9-year Navy Veteran
Pittsburgh, PA (PRWEB) April 16, 2015
G.I. Jobs® released today its 2015 Hot Degrees for VeteransTM (http://www.gijobs.com/top-10-hot-degrees-veterans-2015/). Victory Media, publisher of G.I. Jobs® and the list, surveyed hiring managers from over 200 Military Friendly® Employers (http://militaryfriendly.com/military-friendly-employers/) to identify post-secondary training and education programs veterans need to work in today's hottest job fields.
"Before investing their hard-earned benefits in going back to school, it makes sense for veterans to look at what employers are looking for," said Sean Collins, Vice President at Victory Media and a nine-year Navy veteran. "Pairing our Hot Degrees for VeteransTM with the Hot Jobs for VeteransTM can help veterans map out a pathway to civilian success."
Collins adds, "Getting the right training or education for in-demand jobs doesn't necessarily require a traditional four-year degree."
The 2015 Hot Degrees for VeteransTM include "fast track" options—two-year degrees, certificates or licensing programs—in the fields of Information Technology and Healthcare, as well as Skilled Trades and Transportation. Veterans interested in pursuing a traditional bachelor degree will find opportunities in Business Administration/Finance, Information Technology, Operations & Logistics, Engineering, Construction Management and HealthCare.
"The Hot Degrees list looks beyond education as a means to an end and puts career outcomes in leading job fields first," said Collins.
# # #
About Victory Media:
Victory Media is a service-disabled, veteran-owned business that has served the military community since 2001. Our data-driven lists are published in G.I. Jobs®, Military Spouse, and Vetrepreneur® media, and republished or featured in national media, including USA Today, The Wall Street Journal, Fortune, Bloomberg, NBC, ABC, CBS, CNN, CNBC, Fox News and others.
About G.I. Jobs® and Military Friendly®:
Owned and operated by Victory Media, G.I. Jobs® is the premier resource for military transition, distributed online and in print, providing guidance on career and education opportunities to up to 400,000 service members who leave military service each year. Follow GI Jobs® on Facebook (https://www.facebook.com/GIJobsMagazine) and on Twitter (https://twitter.com/gijobsmagazine).
Since 2001, Victory Media's Military Friendly® tools have helped thousands of schools and employers get their opportunities in front of veterans as they enter the civilian world. Each year, Military Friendly® ratings provide service members the objective data they need to evaluate how companies and colleges stack up in the recruitment, hiring and support of military veterans. Visit http://militaryfriendly.com for more information about Military Friendly® survey criteria and methodology, tools and resources for individuals and businesses.
For further information or to arrange interviews contact:
Barbara Pflughaupt, BP Media Relations, LLC, at 212-707-8181