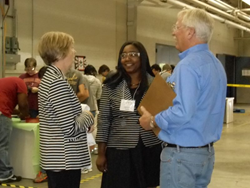 Chester, VA (PRWEB) April 30, 2015
The Hopewell/Prince George Chamber, ITAC and area manufacturers are engaged in the third Manufacturing Technology Camp to introduce youth in Virginia's Tri-Cities area to a unique learning experience, a technology challenge and the possibility of winning scholarships of up to $500.
The Dream It Do IT Virginia Manufacturing Technology Camp, which will take place July 29 – August 1, will be hosted again by Industrial TurnAround Corporation (ITAC) in Chester. ITAC is an engineering and construction firm serving the manufacturing sector since 1988. The purpose of the camp is to demonstrate to high school students the opportunities for advanced technology careers in manufacturing and skilled trades.
"The DIDIVA Technology Camps powered by Stihl© are fun team experiences for teachers, kids, parents and industry volunteer coaches to apply engineering, design and technology to make a real product," says Brett A. Vassey, president & CEO of the Virginia Manufacturers Association. "The Hopewell/Prince George Chamber, ITAC, and area manufacturers and regional school districts have made this one of the most successful programs in Virginia. We'd like to duplicate this success in 100 schools in the next few years."
Under the banner of "Dream It. Do It. Virginia," the Chester site will consist of classroom learning, field trips, and a competition where students produce a product using computer-assisted production methods. Members of the winning student team will each receive a $500 scholarship from the Virginia Industry Foundation to be used for post-secondary education or training which would lead them to STEM careers, like manufacturing. The scholarships themselves are made possible by the generosity of area manufacturers and non-profits.
"The Hopewell/Prince George Chamber spearheaded the effort to bring the manufacturing technology camp to Southside Virginia students in 2013 because we knew that students and parents could benefit from an accurate picture of today's advanced manufacturing environment and to understand the pathways to those jobs," said H/PG Chamber CEO Becky McDonough. The camp is a collaboration of the Virginia Manufacturers Association, the H/PG Chamber, ITAC Engineers & Constructors, area manufacturers, higher education institutions and the school divisions of Hopewell, Prince George and Dinwiddie.
Among the companies supporting the program this year are ITAC, James River Genco, Rolls-Royce Crosspointe, Metl-Span, CaroCon, Church & Dwight, DuPont Teijin Films, Evonik, Gerdau, GDF Suez – Hopewell Cogeneration, Ashland, Service Center Metals and the John Randolph Foundation.
The Manufacturing Technology Camp model was developed by STIHL Inc. and presented to the Dream it. Do it. Virginia network as an opportunity to host students throughout the state for this valuable hands-on learning experience. STIHL is a global manufacturer of chain saws and other outdoor power equipment, with its US operations located in Virginia Beach,
About Dream It. Do It. Virginia
The Dream It. Do It. Virginia (DIDIVA) outreach and awareness network is a partner of the National Dream It. Do It. network as developed by the Manufacturing Institute (MI) and expanded to Virginia in 2007 by the Virginia Industry Foundation (VIF) and VMA. The DIDIVA network's mission is to encourage people to explore and pursue advanced technology careers in Virginia, like manufacturing, biotechnology, robotics, nanotechnology, aviation, energy, information technology, healthcare and more. DIDIVA offers a free, online career resource tool built by Virginia's advanced technology sector to help individuals learn more about exciting career opportunities and connect them with possible future employment, as well as a two-time award winning "So What Do You Do?" integrated marketing campaign featured in all its media. For more information, visit http://www.dreamitdoitvirginia.com.