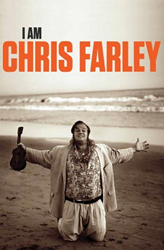 (PRWEB) August 10, 2015
Fans of the late Chris Farley can celebrate the tremendous talents of one of Saturday Night Live's most enduring cast members through the new documentary, "I Am Chris Farley" (Network Entertainment), available now on DVD at the Saturday Night Live: The Exhibition(Premier 5th Avenue, 417 Fifth Avenue) retail store.
Along with the DVD, fans can also pick up other special Farley merchandise on site and online including an authorized biography, a Best Of SNL DVD set, a "Well La dee Freakin' Dah!" magnet and a t-shirt, paying tribute to one of his most memorable characters, motivational speaker Matt Foley who lives ("…in a van down by the river!").
SNL fans will also be able to check out and snap "selfies" with Farley's original Matt Foley costume on display in the exhibition, celebrating the show's 40-year history, including video of Farley favorites like the Chippendale dancers and more. The exhibition is immersive - letting people behind-the-scenes to touch, see, hear and feel the adrenaline-rush process that Farley, and everyone involved with the show, went through to bring a new episode to life each week.
Chris Farley was a kinetic bundle of comedic energy who boisterously crashed his way through a string of memorable characters, catch phrases, skits and films before his untimely passing in 1997. "I Am Chris Farley" features exclusive interviews with Farley's family and friends, including many of his closest SNL costars. It's a loving and poignant look at the real story of the sensitive youth from Wisconsin whose larger than life personality went on to leave a lasting impact on the world of comedy, primarily as a result of his six year run on Saturday Night Live.
"I Am Chris Farley" is available on DVD in the Saturday Night Live: The Exhibition retail space at Premier 5th Avenue along with a variety of SNL themed merchandise, much of which is exclusive to the exhibition. Tickets for the exhibition, which brings together original props, sets, videos, costumes and more from the groundbreaking show, are available at http://www.SNLtheexhibition.com.
# # #
Press Contacts: BP Media Relations, LLC
Barbara Pflughaupt / 212-707-8181 / Barbara(at)bpmediarelations(dot)com
Hillary Herskowitz / 917-279-9574 / hillaryh(at)nyc.rr(dot)com
Alan Miller / 917-412-0166 / alanmillerpr(at)aol(dot)com
About Premier Exhibitions, Inc. -- Premier Exhibitions, Inc. located in Atlanta, Georgia, is a foremost presenter of museum quality exhibitions throughout the world. Premier is a recognized leader in developing and displaying unique exhibitions for education and entertainment including Titanic: The Artifact Exhibition, BODIES...The Exhibition, Tutankhamun: The Golden King and the Great Pharaohs, Pompeii The Exhibition, Extreme Dinosaurs and Real Pirates in partnership with National Geographic as well as Saturday Night Live: The Exhibition. The success of Premier Exhibitions, Inc. lies in its ability to produce, manage, and market exhibitions. Additional information about Premier Exhibitions, Inc. is available at the Company's web site http://www.PremierExhibitions.com.
About Saturday Night Live: The Exhibition – About Saturday Night Live: The Exhibition – Saturday Night Live-The Exhibition takes you behind the scenes to experience a week in the life of the cast and crew of the late night comedy sensation and pop cultural phenomenon that has re-branded and transformed American television. Become immersed in the process, getting an insider's look at the show's fast paced and compressed weekly schedule. Meet SNL's key players, past and present, and interact with sets, props, and costumes in a way only the cast has for the last 40 years. Visit http://www.snltheexhibition.com for more information and follow us on Facebook at https://www.facebook.com/snltheexhibition, or on Twitter @SNLExhibition.
About Network Entertainment, Inc. - Network Entertainment Inc., founded and headquartered in Vancouver, British Columbia, Canada, is an established television and film production company with an international reputation for producing superior quality work. The principal business of the company is the development, financing, production, marketing and distribution of unscripted series, documentaries, docudramas, films and online specials.