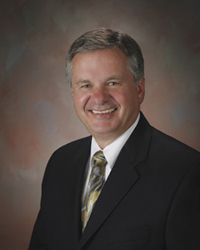 Javon Bea
Janesville, WI (PRWEB) February 28, 2015
Javon Bea Mercy Health System CEO - The designation recognizes Mercy Harvard Hospital as stroke capable by the State of Illinois, enabling potential stroke patients to be brought via ambulance to Mercy Harvard Hospital.
The hospital was required to submit data to the state to indicate their ability to treat stroke according to national standards of care for stroke patients. The designation allows ambulances transporting stroke patients to bypass hospitals not designated as an Emergent Stroke Ready Hospital (ESRH).
"Being an Emergent Stroke Ready Hospital ensures our community that if their loved one is experiencing a stroke emergency, we are more than prepared to provide excellent care close to home," said Jeni Hallatt, vice president of Mercy Health System.
Stroke is the third leading cause of death in the United Sates behind heart disease and cancer, according to the Centers for Disease Control and Prevention. It is the leading source for long-term disability in the nation. Stroke is an emergency that attacks the brain, cutting off vital blood flow and oxygen to the brain. During a stroke, time lost is brain lost. Quick evaluation and treatment in a hospital within the stroke system of care is essential in order to save a life. Stroke occurs at all ages and the majority of people wait too long before going to the hospital once their stroke symptoms appear.
For more information about this recognition, visit dph.illinois.gov. For more information about Mercy, visit MercyHealthSystem.org.