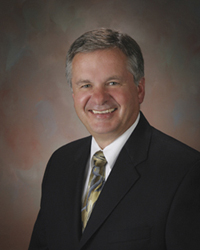 Javon Bea
Janesville, WI (PRWEB) March 10, 2015
Javon Bea, Mercy Health System President and CEO - According to the Centers for Disease Control and Prevention (CDC), the most prevalent disabling childhood conditions in the United States are vision disorders including amblyopia (lazy eye), strabismus (cross eyes), and significant refractive errors (nearsightedness and farsightedness). Early detection increases the likelihood of effective treatment; however, less than 15% of all preschool children receive an eye exam, and less than 22% of preschool children receive some type of vision screening.
Herbert C. Becker, Jr., MD, SC, board-certified ophthalmologist specializing in pediatric ophthalmology at Mercy Regional Eye Center-Janesville, emphasizes that, "Children's needs are unique and never one size fits all. Even with the same concern, infants, toddlers, children and adolescents all might require a different approach. And because of a child's rapid development, time is of the essence when addressing their visual deficiencies."
Dr. Becker's goal is to help improve the ocular functioning—and related quality of life and learning—of his young patients. He offers many types of assessments for children of all ages to address preemie retinopathy of prematurity (ROP), strabismus, amblyopia, refractive errors and retinal diseases.

He employs the latest interventional techniques such as:
Advanced medical and surgical treatments
Glasses and contacts
Systemic and topical therapies
Patching and more
Dr. Becker earned his medical degree at the University of Washington, Seattle, and completed his residency at the Eastern Virginia Medical School, Norfolk. At the University of Illinois Eye and Ear Infirmary, Chicago, he served fellowships in pediatric ophthalmology and retina care. Dr. Becker is certified by the American Board of Ophthalmology.
Dr. Becker welcomes new patients. For more information, or to make an appointment, call the Mercy Regional Eye Center-Janesville, 3524 E. Milwaukee St., Janesville, at (608) 756-7110.