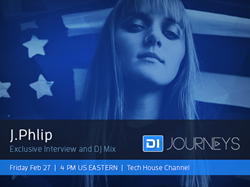 "With a unique sound that incorporates elements from global music hotspots, J.Phlip is an undeniable trendsetter and a perfect example of the kind of artist we seek to showcase on DI Journeys." – Ari Shohat, CEO, Digitally Imported
Denver, CO (PRWEB) February 27, 2015
NEWS:

Digitally Imported, the premier online radio destination for electronic music fans around the world, today announced that J.Phlip will host the second episode of DI Journeys, an original 2-hour series featuring exclusive artist interviews, handpicked tracks, and custom mixes from high profile and emerging DJs around the world.
Digitally Imported listeners can tune into the Tech House channel on Friday, February 27, 2015 at 4:00 pm EST for the world premier of DI Journeys 002. This episode will also be rebroadcast on Saturday, February 28, 2015 at 9:00 am EST.
The episode features an exclusive interview with J. Phlip and covers her earliest dance music influences, interspersed with classic tracks from pioneers of Chicago house music all the way through current material from her own arsenal.
The kickoff of the DI Journeys series in January 2015, featuring Armin van Buuren, generated a 40% spike in listenership on Digitally Imported. DI Journeys has joined a growing list exclusive DJ programs available on Digitally Imported, which streams more original, exclusive and first-to-air mixed shows than any other online music platform.
QUOTES:
"When it comes to being recorded, I'm more at home mixing tracks than talking. But I like to challenge myself, so when Digitally Imported approached me to host DI Journeys, I agreed to have a long chat with them and create an exclusive mix for the show. In the interview, we talk about my journey through music and DJ-ing. Hopefully folks will enjoy the conversation and the hour-long mix of mostly newer tracks and artists that I've been digging lately. I kept this mix in the deeper, more listenable, afterhours vibe with a few tunes of my own. I appreciate this opportunity to speak to and play for Digitally Imported listeners."
– J.Phlip
"DI Journeys exemplifies our commitment to bringing our listeners the best original, exclusive, and first-to-air content from the electronic music world. With a unique sound that incorporates elements from global music hotspots, J.Phlip is an undeniable trendsetter and a perfect example of the kind of artist we seek to showcase on DI Journeys."
– Ari Shohat, CEO, Digitally Imported
EPISODE DETAILS:

In an exclusive interview led by singer, producer and DJ Tigerlight (http://www.facebook.com/Tigerlightmusic), J.Phlip reveals her musical inspirations, which songs influenced her decisions to pursue a career in dance music, and the songs that most symbolize her experiences living in Chicago, Berlin and San Francisco. Throughout the program, she shares insights on house music of various shades, from classic Chicago house, to minimal sounds from Berlin, to her own bumpin' bass heavy tech house grooves.
J. Phlip discusses the making of her first record, including details of its genesis and her current reflections on it. She also shares updates on current projects, including a high profile remix for Kompakt recording artists, GusGus.
Following the interview portion of the program. J.Phlip showcases her skills with an exclusive hour-long mix of new school tech house and bass heavy grooves.
VIDEO AND IMAGE FILES:

SOCIAL:

Retweet @diradio
@jphlip tweet
#DIJourneys

Digitally Imported Facebook post

ABOUT J.PHLIP:
J.Phlip (pronounced J Flip), also known as Jessica Phillippe, discovered house music in her hometown of Champaign, Illinois, two hours south of Chicago, the birthplace of house music. As a college student at the University of Illinois earning a degree in Audio and Sound Engineering, she transitioned into DJ-ing as a career. Her musical influences span house, tech house, deep house, techno and booty bass. After gaining notoriety by winning a major DJ competition in 2005, Jessica moved to San Francisco. She earned a highly desirable spot as an official member of the Dirtybird crew following the release of her first record to them in 2008. Jessica has toured globally and played events including Fabric, Space Ibiza, Back to Basics, and Watergate. After three years spent living and DJ-ing in Berlin, she has now returned to her previous home of San Francisco, where she continues to play both locally and at venues worldwide.
ABOUT DIGITALLY IMPORTED:
Digitally Imported, the premier online radio destination for electronic music fans around the world, is the only electronic music platform to integrate streaming radio, on-demand features and e-commerce on a single platform. With nearly 80 distinct channels of 100% human-curated electronic music, Digitally Imported ensures a superior listening experience with authenticity, originality and depth. Digitally Imported has received numerous industry awards, including winning first place in the International Dance Music Awards for Best Online Radio, Best Global Radio and Best Music App. Founded in 1999, Digitally Imported brings a complete electronic music experience to millions of fans via the Web, mobile applications and third-party streaming partners. For more information, please visit di.fm.