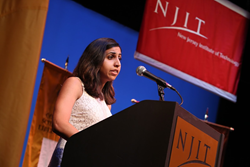 Newark, NJ (PRWEB) June 17, 2015
Kiran K. Gill, of Robbinsville, received the Alumni Achievement Award from New Jersey Institute of Technology (NJIT) on May 16, 2015. Gill was recognized for her many professional achievements in the field of innovative environmental technologies and her leadership in community service organizations that address the social needs of her local Mercer County community.
Gill is the president and chief executive officer of Professional Associates in Regulatory Services (PARS) Environmental, Inc., a full-service environmental consulting firm focused on innovative solutions. She began her career at PARS as an intern and in 2003, she purchased the company from its previous owners. She has overseen PARS' growth from five employees to more than 50, and has increased revenue from $500,000 to over $13 million.
She holds a bachelor's degree from New York University and graduated from NJIT with an MBA in 2007.
In the past three years, Gill has earned awards including: Top Forty Under 40 Business Leader (NJBIZ Magazine); New Jersey Small Business Person of the Year (U.S. Small Business Administration), and Best 50 Women in Business (NJBIZ Magazine). The Society of Indo-American Engineers and Architects also honored her in 2013 for her achievements and leadership of a woman- and minority-owned business enterprise.
In addition to her professional accomplishments, Gill is a board member at The ONE Project, an interfaith and community coalition organized to efficiently and effectively address social needs through education and volunteerism; and has volunteered for the Habitat for Humanity International, Global Village Program, Buenos Aires, Argentina, where she worked alongside a team of international volunteers and members of the local community to build quality, affordable shelters for families.
The Alumni Association of NJIT advances the interests of the university and generates support through the development and implementation of programs, activities, and events for its alumni members and friends. The Association's goal is to facilitate success – in fostering NJIT pride, building Highlander traditions, helping alumni develop opportunities for the university's students, and acknowledging the accomplishments of NJIT graduates in our society. For more information, visit http://www.njit.edu/alumni/index.php
About NJIT
One of the nation's leading public technological universities, New Jersey Institute of Technology (NJIT) is a top-tier research university that prepares students to become leaders in the technology-dependent economy of the 21st century. NJIT's multidisciplinary curriculum and computing-intensive approach to education provide technological proficiency, business acumen and leadership skills. With an enrollment of more than 10,000 graduate and undergraduate students, NJIT offers small-campus intimacy with the resources of a major public research university. NJIT is a global leader in such fields as solar research, nanotechnology, resilient design, tissue engineering, and cyber-security, in addition to others. NJIT ranks fifth among U.S. polytechnic universities in research expenditures, topping $110 million, and is among the top 1 percent of public colleges and universities in return on educational investment, according to Payscale.com.