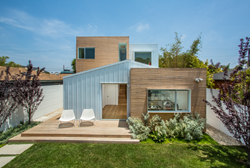 Los Angeles, CA (PRWEB) August 19, 2015
To officially kick off the fall home tour season, Modern Home Tours LLC is returning to Los Angeles to host the 2015 L.A. Beach Cities Modern Home Tour on Saturday, September 12th. Local residents have the opportunity to explore up to eight modern homes in their own city that exemplify modern architecture and living. On the tour, visitors can get the inside scoop from homeowners on what it's like to live in a modern home and talk to the architects to find out where they got their inspiration. It's every L.A. resident's chance to check out 'that cool house down the block…'
The American Institute of Architects Long Beach/South Bay chapter has been named the tour's local non-profit beneficiary. They will help staff the event, in return for a donation and the opportunity to use the tour as a fundraising vehicle.
The L.A. Beach Cities Modern Home Tour will showcase the work of up to eight homes. So far, seven homes have been confirmed:
(1) In the Ocean Park neighborhood of Santa Monica, visit an "L"-shaped home designed by Thane Roberts that provides ocean views and sea breezes to its owner, and features a 20' side-yard with pool and gardens that provide private views from all rooms. The house provides its own electricity, heating and cooling with solar energy and wind. There is also a greenhouse for growing food and a roof system for rainwater collection.
(2) Visit an environmentally green home in Manhattan Beach, designed by Cozen Architecture + Lighting, that uses daylighting techniques to bring in the sunlight. The home utilizes solar panels, radiant heating, zinc (can be recycled indefinitely without loss of physical or chemical properties), water conserving plumbing fixtures, and maintains a high indoor air quality.
(3) In Venice, see a new single-family home designed by Yu2e Inc that was crafted as a direct response to its typically small urban lot. The front and central yards are seamlessly weaved together with the ground floor living areas via transparent and operable facades and minimal structural obstructions. Rooflines are folded up to maximize exposure to natural light, and windows are wrapped around corners to blur the exterior limits of rooms. The space effectively substitutes the claustrophobia of urban living for an airy, light and stress-free coastal lifestyle.
(4) Tourgoers can also visit a major remodel of a vintage Venice bungalow, designed by Hamilton Architects and Greve Built Construction, that combines the charm of the existing guard shack and a new modern look.
(5) A third home in the same neighborhood is another major remodel, with a second floor addition, on a fairly small Venice Silver Triangle lot. Designed by OPENHAUSdesign, the home uses a stackable car lift for the required 2-car garage, and the living space is kept at a consistent width from front to back, while connecting the front yard with the back yard with large pocket patio sliders to achieve a real indoor outdoor feel to the house and great passive airflow.
(6) Rockefeller Partners Architects showcases a home, located in Manhattan Beach off a walk street, with views of the Pacific Ocean and Malibu coastline. The home is an exercise in careful space planning, working within the confines of a narrow 30 x 90-foot envelope, as it features an open green space in the center of the structure, at the ground floor level. On one side of this are the children's rooms, on the other are the master bedroom and bath, which open to what has become an interior Zen garden.
(7) A bit further up the coast in the Pacific Palisades, visit a brand new home by ar5,+inc. that features a roof garden and a massive roof deck with panoramic views to the Pacific Ocean. The home celebrates modern style with clean lines and open spaces, but is also incredibly energy efficient at 23.7% more efficiency than required by California standards.
Participating homes in the 2015 L.A. Beach Cities Modern Home Tour will open their doors for viewing from 11AM – 5PM on Saturday, September 12th, throughout Manhattan Beach, Venice, Santa Monica and the Pacific Palisades. Tickets for each tour are $30 in advance online; $40 on the day of the tour.
For details on participating homes and to buy tickets, visit: http://modernhometours.com/event/2015-la-beach-cities-modern-home-tour
About Modern Home Tours, LLC: Based in Austin, Texas, Modern Home Tours, LLC was founded by James Leasure in 2010 to introduce modern architecture and living to people across the nation. Through fun and informative tours in dozens of cities across the USA and Canada, the group invites people into some of the most exciting examples of modern architecture and design in the nation. With carefully selected architects, neighborhoods and architecture, the Modern Home Tours are unlike anything you've ever seen. Not only will you learn about the cutting edge of home design while on our tours, but you might even get an idea or two for your next home project!