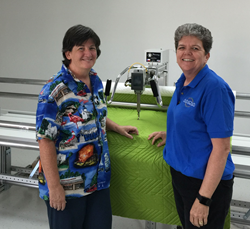 One of the things I love about the INNOVA longarm is that you can add on to your basic machine. You don't have to invest all your money at day one.
Greenville, SC (PRWEB) June 11, 2015
Valerie Schlake of the Longarm Network is opening an INNOVA showroom and training center in Greenville with a ribbon-cutting at 10 am on Monday, June 15. The INNOVA quilting center will occupy 4,000 square feet at 201 Pelham Davis Circle, Suite A.
There will be special prizes for those who attend the ribbon-cutting and two weeks of festivities at the Longarm Network store with 17 special classes and special pricing on machines, batting and supplies.
"We longarm quilt for others; we rent our machines hourly and allow our customers to quilt their own projects," says Schlake. "We educate in the art; we sell the equipment to others and train and help many get started in small business."
Carol Alperin and Darlene Roberts, both of whom run home-based quilting businesses in Greenville, plan to participate in the opening activities. Alperin has been using a Longarm machine for six years. She first bought an 18-inch longarm machine in 2009, added the "autopilot" computerized feature four years ago and earlier this year she bought a 26-inch longarm machine, selling her 18-inch machine to Roberts.
"One of the things I love about the INNOVA longarm is that you can add on to your basic machine," says Alperin. "You don't have to invest all your money at day one."
Roberts, who has been using a longarm machine since January, says "The Longarm Network is nothing but wonderful. I can't wait to go the grand opening." Roberts produces custom, traditional, modern geometric and tee-shirt quilts. Also, she is also a board representative for the Quilters Guild of South Carolina.
Michelle Eno, an experienced and accomplished quilter who started her quilting business nearly ten years ago, will manage the Longarm Network store in Greenville. Eno's longarm quilting journey began with her first longarm purchase in 2006. She has been an active beta-tester for INNOVA Quilting Systems' Auto Pilot software and has been a company educator and trainer for the past five years. In early 2015, Eno sold her business and joined the Longarm Network's team as Director of Sales. She will be taking on the Longarm Network's Southeast Division with the opening of store in Greenville.
About Valerie Schlake and the Longarm Network:
Valerie Schlake, owner of the Longarm Network, which she founded in Oilville, Virginia, in 1999. She is the largest dealer on the East Coast, selling and servicing INNOVA Quilting Systems in the six-state mid-Atlantic region stretching from Pennsylvania to North Carolina and now South Carolina.
The Longarm Network offers quilting services using INNOVA™ Longarm computerized quilting machines. Customers may send in their quilts for quilting and expect a 30-day turn-around. Customers may also come in to the store and do the quilting themselves from 10 a.m. to 5 p.m. Monday through Friday and 10 a.m. to 4 p.m. on Saturday. Also, the Longarm Network rents out its machines over the weekends, conducts training in longarm quilting, and sells, services and trains customers in opening and operating a home-based longarm quilting business.
For more information on the Longarm Network, visit http://virginialongarm.com/