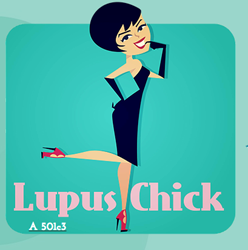 "I want others to know that a diagnosis, disability or disadvantage doesn't have to define them." - Marisa Zeppieri-Caruana, founder LupusChick
Rochester, New York (PRWEB) September 10, 2015
LupusChick, a New York-based nonprofit that focuses on empowering younger generations living with Lupus and other invisible diseases, will award its first college scholarship on Wednesday, September 23. Over 100 Lupus patients from the United States who are attending college or technical schools have applied to win the nonprofit's scholarship. The scholarship is one of multiple ways LupusChick supports Lupus patients and was created by founder Marisa Zeppieri-Caruana.
Zeppieri-Caruana, an author and journalist, is also a Lupus patient and the reigning Mrs. New York USA Universal 2015. She shared, "When I founded LupusChick eight years ago, my goal was to offer tangible resources that could make a real difference in the lives of young men and women who are living with this devastating and misunderstood disease that has no cure. While my own college career was cut short due to Lupus-related strokes and other health issues, being able to help another Lupus patient make their college dreams a reality is what fuels me to keep LupusChick going on a daily basis. No one should have their dream of attending college denied because of health or financial reasons."
While the nonprofit has raised $1,500 to date for the scholarship, Zeppieri-Caruana shared any additional donations that come in before September 23, 2015, will be included in the award. Future donations will be added to the nonprofit's emergency assistance fund, which helps patients pay for emergency physician visits or medication.
Zeppieri-Caruana is no stranger to bringing awareness to and supporting Lupus patients and others living with invisible illness. Lupus awareness is her platform as Mrs. New York USA Universal 2015. In addition, her work with LupusChick was instrumental in having Monroe County, New York and the City of Rochester award proclamations this past May officially announcing May as Lupus Awareness Month. Her strength in leadership and being a voice for young women also led to her being chosen as one of the newest faces for a national leadership campaign for a women's clothing retailer, which was released on September 9, 2015.
"I founded LupusChick and chose Lupus awareness as my platform as Mrs. New York 2015 because I want others to know that a diagnosis, disability or disadvantage doesn't have to define them. I am living proof that our goals and dreams are still possible despite the struggles we live with daily because of this chronic and incurable illness. My dreams of what I had hoped LupusChick would become have turned into a reality and awarding this scholarship is just the beginning of many great things we hope to do for Lupus patients," added Zeppieri-Caruana.
Lupus is a chronic, inflammatory autoimmune disease that is estimated to affect 5 million people around the world and 1.5 million people in the United States. There is currently no cure for the disease and cases can range from mild to fatal.
About LupusChick
LupusChick was founded in 2007 and became a nonprofit in 2014. Its mission is to support and encourage younger generations living with Lupus and other invisible illnesses through a variety of tangible resources. LupusChick.com has won three health awards in the past three years and both the website and its founder have been featured in multiple national newspapers and magazines. You can learn more at LupusChick.com