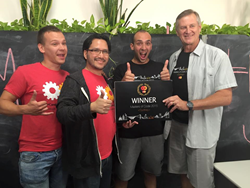 Sydney, Australia (PRWEB) February 12, 2015
On February 7th MasterCard's: Masters of Code series powered by AngelHack kicked off in Sydney, bringing together some of the brightest and most talented minds in the Sydney area. Over 74 attendees gathered, some coming as far as Melbourne, to create FinTech and mobile commerce focused applications. In total, 15 teams' participated and competed for the chance to become the first ever Australian Masters of Code and a trip to Silicon Valley to compete in the Grand Finale.
Cointr, the winning team, created an app that can be described as a digital piggy bank that allows the user to save money by topping-up their coin change into their digital wallet in any MasterCard RePower enabled location. Users can track their progress, ask friends and family for help, invite friends to save for a common goal, send money to a charity and purchase the items.
Pictured here is MasterCard's President of Australasia, Eddie Gobler, and the members of the winning team; Giovanni Ravone, Daniel Sempertegui, David Van Dugteren, Sergej Metelin. Team Seamless, an express checkout application, was chosen as the runner up.
The talent and creativity of Sydney developers was extremely impressive. "We believed in our idea but when we saw what great stuff other teams had built, we realized competition for the winning spot was huge," said Giovanni Ravone from the winning team.
In regards to the event itself he said, "I have never seen such a large, approachable team like the one sent over by MasterCard, and I have never seen such great organizers as the AngelHack people."
About AngelHack
AngelHack is the world's largest and most diverse global hacker community, helping to drive open innovation of tech products, platforms and brands with extraordinary smarts, scale and speed. Known as pioneers of global hackathons, for more than 3 years, AngelHack has partnered with corporate change-makers at Comcast NBCUniversal, Hasbro, IBM, and Hearst to run themed, global initiatives designed to rapidly get them ideas with market traction while helping them build relationships with the workforce of the future. Find out more at http://www.angelhack.com.
For more information on the MasterCard: Masters of Code Sydney hackathon, powered by AngelHack contact Kelsey at (916) 412-8709 or email her at Kelsey(at)angelhack(dot)com.