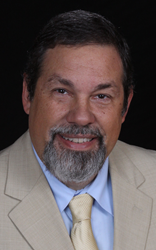 Although it closed flat against the U.S. dollar last year, gold was actually the second best 'currency' in the world in 2014.
Nashville, Tennessee (PRWEB) April 04, 2015
An important personal finance seminar at the upcoming National Rifle Association's Annual Meetings & Exhibits (http://www.NRAam.org) in Nashville, Tennessee will feature America's Gold Expert®, Michael Fuljenz (http://www.MikeFuljenz.com) and a $1 million display of rare gold coins.
The sixth annual Freedom First Financial Seminar will be held on Saturday, April 11, 2015, at 11 am in room 201-A of the Music City Center. The 90-minute educational session will be free and open to registered NRA members.
"Diversification of investments is an important part of financial planning, and many experts recommend that 5 to 25 percent of a total investment portfolio be in tangible gold," said Fuljenz, a nationally-known leader in the field of rare coins and precious metals and the Exclusive Precious Metals & Rare Coin Experts of NRA Publications.
"Although it closed flat against the U.S. dollar last year, gold was actually the second best 'currency' in the world in 2014. Even The Wall Street Journal recently published a story headlined, 'Buyers Take a Shine to Gold & Silver Again,' pointing out that many investors are buying gold because of such concerns as slowing global growth, supply and demand factors, and actions by central banks," he said.
Fuljenz and award-winning financial advisor Shad Ketcher of New Era Financial Group in Wayzta, Minnesota will discuss diversification of investments and why they believe gold is vital for long-term financial stability.
A community leader in his hometown of Beaumont, Texas, Mike Fuljenz is an award-winning numismatic author of books and newsletters about rare coins and precious metals. He is a frequent interview guest on radio and TV news and personal finance programs and a Benefactor Member of the NRA. He is a co-sponsor of both the 2015 NRA Foundation banquet and the NRA Prayer Breakfast, and will be inducted into the NRA Ring of Freedom society for his support of the association and helping to educate others about the important work of the NRA including the Eddie Eagle Gunsafe® program.
Ketcher has been honored as a Five Star Professional Wealth Manager in the Twin Cities and is a registered broker with the Financial Industry Regulatory Authority (FINRA). He is a member of the NRA Ring of Freedom society, a volunteer for NRA Planned Giving Team, President of local Friends of the NRA chapter in Hutchinson, Minnesota and a member of Ed Slott's Elite IRA Advisor Group.
In addition to the financial seminar, Fuljenz will be meeting with NRA members during the show, April 10 - 12, at booth #3025 to talk about gold coins. He will be autographing copies of the just-published latest edition of his award-winning reference book about U.S. gold coins, "Type Three Double Eagles, 1877 - 1907." Visitors to the booth can register and receive a free copy of the book, and they also can see an exhibit of a $1 million portfolio prepared by Fuljenz of rare, 19th and early 20th century United States gold coins.
Fuljenz will give away complimentary copies of his award-winning Personal Gold Guide, an informative booklet that is the only gold guide honored as The Best Dealer Publication by the prestigious Numismatic Literary Guild (NLG) and recognized as the Best Brochure by the Press Club of Southeast Texas.
For additional information about the NRA Foundation banquet and the NRA Annual Meetings and Exhibits, visit online at http://www.NRAam.org.
For a free copy of Fuljenz' Personal Gold Guide, call (800) 822 -4653.