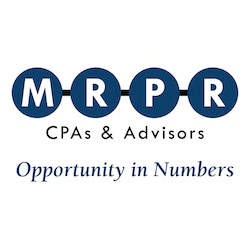 As part of the Firm's strategic plan, MRPR has committed to hiring and building bench strength while also promoting from within.
Southfield, Michigan (PRWEB) February 18, 2015
With a 2024 Vision and strategic plan focused on growth while maintaining its unique culture, MRPR understands the importance of its people, promoting from within, and continually searching for and hiring the brightest and most talented professionals. "
Always striving to provide clients with high-quality expertise and personal service, we realize our professionals are an integral part of both the Firm's and our clients' success", states Angela Mastroionni, Principal and Chair of the Personnel & Coaching planning Team at MRPR. "Without them, we are not much of anything", she adds. As part of the Firm's strategic plan, MRPR has committed to hiring and building bench strength while also promoting from within.
Matt Mazure, CPA has been promoted from staff accountant to Senior Staff Accountant, effective October 1, 2014. Matt joined MRPR in December 2011 and has been focusing on providing audit, accounting, and tax compliance services to clients in the manufacturing, professional service, technology, and broker dealer sectors. As a senior accountant, Matt will continue to build relationships with client personnel and management. He has the additional responsibility of enhancing his technical competence and acting as the in-charge on engagements. His new role will allow him the opportunity to direct, supervise, and train other team members from a technical perspective as well as on MRPR culture, policies, and procedures.
MRPR has also bolstered its accounting services, assurance and tax departments with new hires in 2014. Edmond Golemi, CPA and Klotilda Lala, MST joined the firm as Staff Accountants in January 2014. While Klotilda is working toward her CPA designation, Edmond has recently obtained his license as a Certified Public Accountant and is pursuing a Master's of Science in Taxation (MST). Both Edmond and Klotilda focus a majority of their time on tax services and compliance. In late 2014, Varsha Jain, CPA joined as a Senior Staff Accountant and Margaret (Gosia) Orlowski, CPA as a Staff Accountant. Varsha and Margaret come to MRPR with six and two years of public accounting experience, respectively, and will focus on accounting, assurance, and tax services for clients in various industries.
Celebrating 40 years of client-centered service, MRPR is a certified public accounting and business advisory firm with offices in Southfield and Ann Arbor, Michigan. As an integral part of the SE Michigan business community, MRPR Group is a leader among Michigan CPA firms, serving small to medium sized closely-held companies in various industries, including manufacturing and distribution, construction and real estate, transportation, engineering and professional service firms, technology and software as well as not-for-profit organizations. Team members at MRPR are dedicated to Five Star Client Service. Their mission is to proactively help clients achieve their financial and business goals by offering innovative ideas and solutions that contribute to their success. Contact MRPR at (248) 357-9000 or visit us online at http://www.mrpr.com to learn how "Selecting the Right CPA Firm for Your Company" will benefit you and your business or to receive a complimentary CPA Consultation.