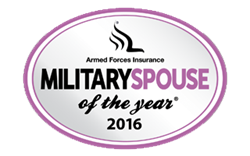 "Fourteen years of war has shown us the resilience, dedication and innovation the spouse community brings every day of their lives. We could not be more proud of their accomplishments," said Lori Simmons, Asst. VP, Armed Forces Insurance.
Pittsburgh, PA (PRWEB) January 04, 2016
Military Spouse magazine opened nominations for the 2016 Armed Forces Insurance Military Spouse of the Year® (MSOY) today. Now in its eighth year, the award honors military spouses from all branches of service and all ranks. All Americans are urged to submit their nominations from January 4-15, 2016 for the deserving military spouses they know at http://msoy.militaryspouse.com.
The annual award recognizes the force behind our nation's service members: Military Spouses. Military Spouses make a difference every day, from serving as single parents and heads of households when spouses are deployed to advocating for their communities, volunteering their time and talents to charitable causes and leading change. In every way these men and women are making important contributions to America and its protection and defense.
This year, the 2015 MSOY, Corie Weathers, was the first military spouse to go in-theater with Defense Secretary Ash Carter to be the eyes and ears of the military spouse community, and to be their voice to those serving overseas.
"Military spouses are the positive, powerful force behind our great service members. They have shaped legislation, been commanding advocates for our nation's military children and spearheaded organizations that have raised millions for our wounded warriors and their families," said Suzie Schwartz, Vice President of Spouse Programs. "I encourage you to recognize the men and women in your community who have gone above and beyond for their communities, our military and for this nation."
Past branch or overall MSOY winners have included an Army spouse who uses her expertise as a psychologist to help strengthen military marriages; a Marine spouse entrepreneur who runs a successful business and mentors military spouses as they start their own careers; a National Guard spouse who helps civilians understand the complexities of a Guard serving at home as well as overseas; a Navy veteran stay-at-home dad who advocates tirelessly on behalf of military families with special needs; a mother of three who began a program that works to streamline the obstacles for higher education for military spouses; and a Marine wife who started the Semper Fi Fund and Americas Fund with $500 and has currently granted more than $120 million to help wounded, critically ill and injured services members and their families in need.
Nominations will be accepted beginning January 4, 2016 on behalf of all six branches of the United States military: Army, Air Force, Coast Guard, Navy, Marine Corps and National Guard. They will then be organized at the base, district (Coast Guard), and state (National Guard) level.
1. Candidates will be narrowed down by vote to one winning Spouse of the Year from each base, district, and state on January 21, 2016. Americans will then be invited back to cast their vote in two additional rounds of voting for Branch and overall 2016 Armed Forces Insurance MSOY: http://msoy.militaryspouse.com/timeline/ .
2. Those 200+ base level representatives will be eligible for a vote occurring on February 4, 2016, which will determine each service's 2016 Branch Spouse of the Year®. The six branch winners will be announced on February 19, 2016.
3. The third and final voting round will be held on March 3, 2016. The 2016 Armed Forces Insurance Military Spouse of the Year® will be honored during a live V.I.P. event hosted in Washington D.C. on May 5, 2016.
"Armed Forces Insurance has been a part of the Military Spouse of the Year awards ® for seven years, and we could not be more proud of the accomplishments of the military spouse community. Fourteen years of war has shown us the resilience, dedication and innovation the spouse community brings every day of their lives. We honor their service and that of their service members," said Lori Simmons, Asst. Vice President, Marketing & Communications at Armed Forces Insurance.
To learn more about the Military Spouse of the Year® program, including nominee eligibility, rules and regulations, and program alumni visit http://msoy.militaryspouse.com.
# # #
About Military Spouse:
Military Spouse magazine and http://militaryspouse.com are the leading national magazine and online destination for the nation's 1.1 million military spouses. You can follow us on Facebook at http://www.facebook.com/militaryspouse and on Twitter at @MilpouseMag. Military Spouse is a division of Victory Media, a workforce development firm founded in 2001 specializing in connecting classrooms to careers and helping professionals in transition. Victory Media produces media, ratings and training solutions used by Fortune 1000 firms, colleges and school districts nationwide. In addition to Military Spouse, its media brands include G.I. Jobs®, Military Friendly®, STEM Jobs SM and Vetrepreneur®.
About Armed Forces Insurance:
Armed Forces Insurance was founded in 1887 by military leaders with a single mission: to protect the property of those who protect our nation. The company provides premium quality, competitively-priced property and casualty insurance to military professionals throughout the United States and overseas. Armed Forces Insurance understands that military members have unique circumstances and insurance needs, enabling the company to offer a level of personalized service that's unequaled in the industry. For more information, visit the website at http://www.afi.org or call 1-800-495-8234.
For press information or to arrange interviews, contact:
BP Media Relations, LLC
Barbara Pflughaupt – 212-707-8181