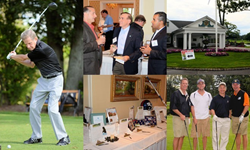 reunite with friends and network with the local community while supporting a good cause
Montclair, NJ 07043 (PRWEB) September 01, 2015
The 3rd Annual Red Hawk Open golf outing is coming soon and there are still plenty of opportunities to support this great event. Event and Hole Sponsorships are an excellent opportunity to promote any business and organization - A limited number of foursomes are remaining for golf.
Support from this event will benefit the Montclair State University Athletics programs with team travel, facility improvements and other essential projects that are critical in keeping the athletic programs strong and vibrant.
Register online today to guarantee a spot in this great event. The outing is an opportunity to reunite with friends and network with the local community. The outing will be held on Monday, September 21st at Rock Spring in West Orange.
For more information or registration details, please contact:
Beth Gottung, Director of Development for Athletics
973-655-3654
gottungb(at)mail.montclair(dot)edu
Event Details
Monday, September 21, 2015
Rain Date: September 28, 2015
Rock Spring Club, West Orange, NJ 07052
10:30 a.m. Registration Opens
11:00 a.m. BBQ Lunch
12:30 p.m. Shotgun Start
5:30 p.m. Cocktail Hour
6:30 p.m. Dinner
Country club casual (no jeans, please)
Entry fee: $350 (tax deduction $125)
Foursome: $1,400 (tax deduction $500)
Foursome/Hole Sponsor Package: $1,800 (tax deduction $900)
Cocktails/dinner only: $100 (tax deduction $75)
The entry fee includes golf, cart, caddies, unlimited range use, use of clubhouse/locker room, gift bag, lunch, cocktails and dinner. Each golfer is eligible for awards, door prizes and raffles
SUPPORT MONTCLAIR STATE ATHLETICS
Proceeds from the Red Hawk Open support the student-athletes and programs of the Montclair State University Athletic Department. More than $100,000 has been raised over the previous two outings to support essential projects.
The opening of the brand new Academic Center for Excellence in the Panzer Athletic Center will provide student athletes with the dedicated study and tutoring space they so richly deserve.
Montclair State University
Beth Gottung
Director of Development, Athletics
University Advancement
1 Normal Avenue, Montclair, NJ 07043
973-655-3654
About Montclair State University
Building on a distinguished 107-year history, Montclair State University is proud to be a leading institution of higher education in New Jersey. The University serves over 20,000 undergraduate and graduate students in more than 300 doctoral, master's and baccalaureate-level programs. Situated on a beautiful, 250-acre suburban campus just 14 miles from New York City, Montclair State delivers the instructional and research resources of a large public university in a supportive, sophisticated and diverse academic environment. montclair.edu