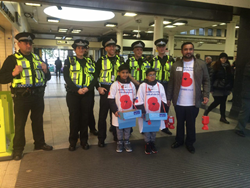 We do this as Islam teaches us to serve humanity
London, United Kingdom (PRWEB UK) 9 November 2015
Britain's leading Muslim youth organisation, the Ahmadiyya Muslim Youth Association (AMYA) took part in a 10k run to raise more than £400,000 for UK charities, including, The Royal British Legion, Save the Children, NSPCC, Barnardos, CLIC Sargent, UNICEF, The Silver Line, British Red Cross, Macmillan Cancer Support, British Heart Foundation, LLR, RNIB, and the Royal Hospital for Neuro-Disability.
The event is part of the 'Mercy for Mankind' series of charitable initiatives with volunteers raising money for those in need irrespective of religion, race, gender or creed.
The participants saw the occasion as an opportunity to challenge a number of important issues that some have linked to Islam and Muslims over the past year.
Mirza Waqas Ahmad, National President of AMYA said:
"We held our flagship charity fundraising event on Remembrance Sunday and marked our respect with the 2 mins silence at 11 am. Our youth are regularly out and about donating blood, planting trees, visiting the sick and elderly, and making a positive contribution to the community and country as a whole. We do this as Islam teaches us to serve humanity."
The youth have also been collecting for the Poppy Appeal and many other UK charities on high streets, rail and tube stations, stadiums and airports.
The Prime Minister, David Cameron, has said regarding the Poppy Appeal collections: "Your participation in this important fundraising campaign is a display of your clear commitment to community work, tolerance and peace.
"I welcome such positive action by young British Muslims, and I am sure that it will inspire other to make similarly positive and constructive contributions".
The event was attended by former international England Cricketer, Ryan Sidebottom who said: "It's a really great honour to be here. Everyone involved, the volunteers everyone that's giving up their time, well done to you. Mercy4Mankind, you're doing a wonderful job. It's absolutely special what you're doing. You're raising fantastic money for wonderful causes so please keep up the good work."
The AMYA is the UK's largest Muslim youth organisation and the leading Muslim youth group challenging extremism in the UK.
For media enquiries please contact the AMYA press office:
Tel: Jamal Akbar (07961444005)/ Farooq Aftab (07584100659)
mail: press(at)khuddam(dot)co(dot)uk
Twitter: @MKA_UK
Website: http://www.mercy4mankind.org/

About the Ahmadiyya Muslim Youth Association (AMYA)
The Ahmadiyya Muslim Youth Association (AMYA)AMYA is the UK's largest and leading Muslim youth organisation and charity with a membership of 8,000 young British Muslims. It is committed to the spiritual, moral, intellectual and physical development of young Muslims and runs a regular programme of structured activities for the youth with a mix of academic, sporting, social welfare and charitable works which keeps its members engaged.
The AMYA's central headquarters are at the Fazl Mosque, London's Oldest Mosque, and Baitul Futuh Mosque, the UK's largest Mosque. The AMYA also has more than one hundred branches situated across the UK.
The purpose of all these activities is to engender the spirit of discipline and service to the wider community irrespective of people's beliefs, race, or gender. The Ahmadiyya Muslim community's motto 'Love for All, Hatred for None' underpins this ethos.