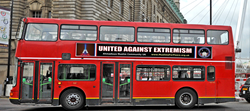 The atrocity in France was a crime against humanity
London, United Kingdom (PRWEB UK) 19 November 2015
A Muslim community that has also borne the onslaught of numerous terror attacks are sending out a signal of solidarity with victims of terrorists by holding a remembrance service in their honour immediately after Friday Prayers.
One week on from the terrible attacks in Paris, Muslims will converge on Britain's biggest mosque complex, in south London, for a special remembrance service this Friday from 2.00pm to 3.00pm where members of the congregation will be joined by political, community and religious leaders. Thousands of worshipers are expected to observe a minute's silence.
Rafiq Hayat, National President Ahmadiyya Muslim Community UK, said:
"The atrocity in France was a crime against humanity. This Friday we will show our solidarity with communities in London and Paris and will send a clear message that terrorism will only serve to unite us even more.
"Terror attacks never succeed – they only make us stronger. We are living proof of that fact- as a community we have faced numerous murderous attacks, including massacres in our mosques, but we have never retaliated – instead we are strengthened by our faith and our ethos of Love for All, Hatred for None.
"The role of all true believers is to unite with fellow citizens of all faiths and of none, with all people regardless of race, nationality or colour. We stand together against a common foe.
"We earnestly pray that the perpetrators of evil are brought to justice and that the world unites in ridding us of the scourge of extremism.
"The purpose of Friday's special service is to show how we oppose terror everywhere in the world. Our faith knows no borders. It is not just for the east or the west but for all of mankind and our prayers are for all people who strive for peace."
Members of all faiths have been invited to the prayers at the Baitul Futuh Mosque in Morden Surrey.
ENDS
Media contacts
Basharat Nazir media(at)ahmadiyya(dot)org(dot)uk Tel +447703 483 384
Mahmood Rafiq Tel +447971 060 962
http://www.loveforallhatredfornone.org