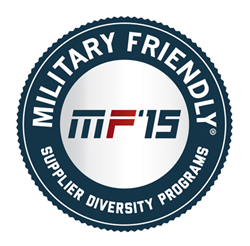 Greg Irace, president & CEO of Sanofi US Services, Inc.said, "We find that veterans, with their varied backgrounds, drive innovative solutions, creative problem-solving, and tremendous teamwork, which adds immeasurable value to our business."
Pittsburgh, PA (PRWEB) February 10, 2015
For Immediate Release: Economic News: Veteran-Owned Businesses
The National Veteran-Owned Business Association (NaVOBA) opened its annual survey today honoring the best U.S. corporations working with veteran-owned businesses in 2014 (http://www.navoba.com/MFSDP2015). The prestigious list honors the large corporations that most successfully engage the nation's 3 million veteran-owned businesses (VOBs) as suppliers.The survey runs through April 1, 2015. The companies that earn the Military Friendly® Supplier Diversity Programs distinction will be featured in the cover story in the June issue of Vetrepreneur, NaVOBA's national magazine.
"NaVOBA' s efforts to identify the best big corporations doing business with veteran-owned businesses as suppliers has grown dramatically," said NaVOBA President Chris Hale. "Recognizing these Military Friendly® Supplier Diversity Programs brings well-deserved recognition to the exceptional job these firms do at working with America's vetrepreneurs."
Through NaVOBA' s untiring efforts the number of FORTUNE 1000 companies seeking veteran-owned suppliers has more than doubled since NaVOBA began its advocacy in 2007. Currently nearly 200 of the world's largest companies maintain programs designed to use VOBs as preferred vendors in their supplier diversity efforts.
Greg Irace, Senior Vice President, Global Services, Sanofi, and President & CEO of Sanofi US Services, Inc., one of NaVOBA's 2014 Best Corporations for Veteran-Owned Businesses, said, "Sanofi is very pleased and proud to have been recognized twice by NaVOBA."
"Sanofi US pursues veteran suppliers for many reasons, including our commitment to strengthen economies in the communities where we live and work, and our desire to have a supplier base that reflects our customer base," Irace said. "We also find that veterans, with their varied backgrounds, drive innovative solutions, creative problem-solving, and tremendous teamwork, which adds immeasurable value to our business."
The notion that military training is world-class preparation for running a business is reinforced by the fact that one out of every seven businesses in the U.S. is owned by a veteran, according to Census data. That's twice the national average.
The 2015 Military friendly Supplier Diversity Programs Survey can be accessed at http://www.navoba.com/MFSDP2015.
# # #
About the National Veteran-Owned Business Association (NaVOBA):
NaVOBA unites the nation's 3 million businesses owned by military veterans by providing a single voice to advocate for important issues. For more information visit us on the web at http://www.navoba.com, or follow us on Facebook at http://www.facebook.com/navoba and on Twitter @NaVOBA.
For more information or to arrange interviews, contact:
BP Media Relations, LLC
Barbara Pflughaupt – 212-707-8181