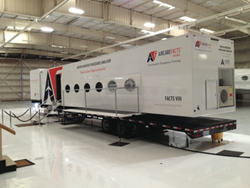 "At Aircare FACTS Training, we create a training environment as close as we can to the environment in an emergency condition," said Brian Hayvaz, VP of Aircare FACTS Training
Las Vegas, NV (PRWEB) November 17, 2015
Aircare International is showcasing their latest emergency procedures training simulator at this year's NBAA convention and exhibition. The company, headquartered in Tacoma, Washington specializes in emergency procedures training for pilots, cabin crew and executives.
Aircare International's FACTS Training product has been teaching human factors-based emergency procedures training for business aviation crewmembers for over three decades. The company employs full-motion cabin simulators and other experiential training tools in order to help to teach crews how to deal with inflight emergencies.
"At Aircare FACTS Training, we create a training environment as close as we can to the environment in an emergency condition," said Brian Hayvaz, VP of Aircare FACTS Training. "We want to teach and train the crewmembers to overcome the stressful situation around them and focus on getting the job done. Clear thinking, quick action and the ability to recall procedures and tasks within an emergency are paramount for a successful outcome."
The FACTS VIII simulator brings potential inflight emergencies to life in realistic scenarios intended to expose trainees to a variety of stress-inducing situations including hydraulic failure, land and water evacuations, rapid decompression, and cabin smoke and fire just to name a few. The simulator is rocked and bumped by hydraulic lifts and floats on an airbag system that allows the operator to simulate smooth aircraft movements. The cabin and flight deck are equipped with real working emergency equipment that crews can use during simulations, including fire extinguishers, life vests, and life rafts.
"We attempt to eliminate 'pretending' during drills," said Hayvaz. "If the scenario is a smoke filled cabin, we want the crew to really find that extinguisher in the dark, remove it from its holder, and really pull the pin and squeeze the handle when they find the fire's source. Doing teaches much more than pretending."
FACTS VIII features a flight deck and an agnostic business aviation cabin, with overwing exits specific to nine different airframes, including the Gulfstream 650. The combination of the flight deck and cabin allows for cohesive crew training, promoting crew resource management (CRM) and communication between the front and back of the aircraft. Aircare advocates that entire crews train on FACTS VIII as a unit, but the company also trains frequent flyers, principals and other passengers that use the aircraft regularly.
Aircare International provides support and products to enhance the culture of safety in business aviation. The Aircare FACTS Training product deploys mobile simulators, including FACTS VIII, to locations across the US. In addition to the simulators, Aircare FACTS trains using state of the art walk-in fire trainers, hypoxia awareness trainers and underwater egress dunkers. The hands-on training provided by Aircare FACTS Training is an unrivaled feature of both training events at the customers' hangars and regularly scheduled training events at Aircare's fixed based training centers.
The Aircare International Team will be demonstrating the FACTS VIII simulator during the NBAA Convention this week. The simulator is located at the bus pickup and drop-off point for the static display just outside the convention center doors. Aircare invites all to experience the simulator and to visit booth #N3513 to learn more about the training.
About Aircare FACTS® Training
Aircare FACTS® Training is recognized as the most experienced and respected crewmember safety, medical and emergency training institution in business aviation. All Aircare FACTS® courses have unique, human factor based modules that are designed to provide pilots and flight attendants the most thorough emergency, medical, evacuation and safety programs available while using the most innovative training equipment offered in the corporate aviation industry. Aircare FACTS® Trained Crews – Trained to Save, Trained to Survive. More information about Aircare FACTS can be found at http://www.aircareinternational.com.
About Aircare International
Aircare International specializes in medical, safety and emergency related training, services and products for business aviation. Aircare International products include Aircare FACTS® Training for crewmember emergency procedures training; Aircare Crews® Staffing, providing a staffing solution for pilots and flight attendants; Aircare Access® Assistance, providing 24-7-365 tele-medical assistance and support services. More information can be found at http://www.aircareinternational.com.