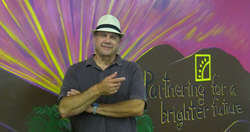 New Horizons and "Uncle Joe" Benson... Partnering for a Brighter Future
North Hill, CA (PRWEB) May 02, 2015
Los Angeles, CA. April 29, 2015 – Veteran Los Angeles radio personality "Uncle Joe" Benson will emcee the 2nd Annual Benefit for New Horizons, a North Hills-based nonprofit, on Saturday, June 27, 2015 at the Historic Alex Theatre in Glendale, CA.
With proceeds going towards individuals with special needs, the concert is being headlined by perennial classic-rock favorite, America, highlighted by the group's founding members, Gerry Beckley and Dewey Bunnell. This highly anticipated musical show, fresh off the success of New Horizon's sold-out concert last year, will feature the group which is celebrating 45 years together. America is best-known for such hits as "A Horse with No Name," "Ventura Highway," "Lonely People," and "Sister Golden Hair." Uncle Joe Benson will start the evening by introducing 2013 LA Music Awards Winner Katie Cole who will open the show. New Horizons' Corporation of Note award will be presented to New Horizon's long-time supporter Galpin Motors for its philanthropic work throughout the San Fernando Valley as well as the Greater Los Angeles area.
According to Dana Martin, executive producer of the event and New Horizons Board member, "Nobody knows classic rock like Uncle Joe Benson which is why it is so appropriate to have him be a part of an evening that will feature America – one of the greatest classic rock bands of all time."
Tickets for this exciting the event are on sale now, with a variety of ticket options available for single and group purchase. To buy online visit http://www.alextheater.org, by phone at (818)243-2539, or in person at the Alex Theatre box office. All proceeds go to the benefit of New Horizons programs and services for its clients with special needs. For more information, visit http://www.newhorizons-sfv.org, or call (818)894-9301.
###
New Horizons is a nonprofit organization whose mission to empower individuals with special needs to fulfill their dreams is accomplished through partnerships, community education, and advocacy. Our goal is to create a brighter future in which our clients are accepted by, participate in, and add value to the community. New Horizons has been in service since 1954.