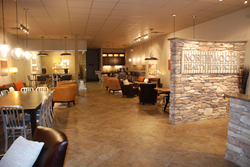 We believe that agents are the key to our success at Northwood. The Social Agent status makes a career in real estate more accessible for many people who enjoy helping others and making connections in the community.
Pittsburgh, PA (PRWEB) March 11, 2015
Northwood Referral Company, Inc. an affiliate of Northwood Realty Services, today announced the formal launch of its Social Agent status, a new way for individuals to leverage their social networks and generate income through real estate referrals.
"Our Social Agent program is a new model for the real estate industry. We have formalized an incentive process for people with many connections who are able to refer business," said Tom Hosack, CEO and president of Northwood Realty Services. "Word-of-mouth referrals drive our industry. We created this type of agent in response to the inquiries we had from very social individuals who were interested in real estate, but didn't necessarily want to pursue a full-time career as an agent. We've made it very easy and lucrative for a Social Agent to receive compensation just for referring business to our traditional agents."
Social Agents do not need to invest the amount of time or expenses that a full agent might typically make, so it is an ideal opportunity for those who think they may have an interest in a real estate career. The prospective Social Agent does need to obtain a real estate license, but the licensing process can be accomplished in as few as two months, so income generation can start quickly. In addition, a social agent can change his or her status to become an active agent at any time. Social agents are able to relocate clients virtually anywhere in the world, through Northwood's affiliation with the Leading Real Estate Companies of the World network.
The ideal Northwood Social Agent is likely to have a broad social circle and is active in the community, perhaps through school programs, local politics or clubs. He or she may be in a sales or marketing position, where interaction with numerous people is taking place already.
Once licensed, the Northwood Social Agent is paired with a transaction agent and has the support of a recruiter, field instructor, tech trainer, mentor manager, undergraduate trainer, coach, administrative manager and sales manager from Northwood. In addition, Social Agents benefit from access to all the technology Northwood offers to support its agents, along with newly designed offices that offer the ideal environment and amenities for conducting business.
"We believe that agents are the key to our success at Northwood. The Social Agent status makes a career in real estate more accessible for many people who enjoy helping others and making connections in the community," said Hosack. "From credit approval to closing, Northwood Social Agents have a full team of professionals helping them the entire way. They have the support of approximately 1,000 agents and 38 offices in southwestern Pennsylvania and eastern Ohio, along with a company which understands that agents are the heart of our business."
For more information about Northwood Realty Services visit: http://www.northwood.com/