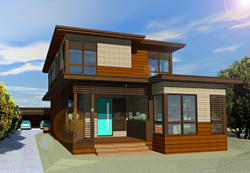 Attendees will learn how NyloDeck and NyloPorch are exceptionally strong, durable and eco-friendly composite decking and porch flooring materials made using recycled carpet fiber.
Covington, GA (PRWEB) January 20, 2015
NyloDeck® is the featured decking material at the Modern model home at Show Village 2015, an outdoor exhibit at the National Association of Home Builders (NAHB) International Building Show (IBS) 2015 in Las Vegas, January 20-22. At IBS Booth C9313, attendees will learn how NyloBoard products, including NyloDeck and NyloPorch, are exceptionally strong, durable and eco-friendly composite decking and porch flooring materials made using recycled carpet fiber.
The Show Village 2015 Modern home model and the NyloBoard Booth at IBS will showcase the top five unique attributes that make NyloDeck and NyloPorch exceptionally attractive to contractors looking for next-generation decking and porch flooring solutions:
1. Great Looks

NyloBoard's manufacturing process creates individual and unique boards with a strikingly natural look that resembles real wood. Just as in nature, no two boards look exactly the same.
NyloDeck and NyloPorch are available in six popular colors that complement every architectural style. The shared color palette allows for seamless transition between NyloDeck and NyloPorch applications.
NyloPorch offers two face width options for either a more traditional or a wider contemporary look. Use of the 5-1/8" width translates into a 30 percent savings in installation time and fasteners.
2. Material Composition

NyloBoard products are uniquely made using recycled carpet fiber. This carpet fiber composition provides exceptional strength, rigidity and screw retention, with superior resistance to moisture and insects.
NyloBoard products are made in the USA.
NyloDeck and NyloPorch are NOT cap stock products, where a cap is used to protect a vulnerable core. Rather, NyloBoard products are monolithic, produced in a one-step process to create a solid board.
3. Advanced Coating Protection

A monolithic board composition, combined with a patent-pending finishing process, ensures that durable NyloDeck and NyloPorch can withstand the toughest environmental conditions.
Designed for long lasting strength and durability, the company uses enhanced coating technologies which provide NyloDeck and NyloPorch with superior scratch and UV resistance.
NyloBoard products maintain their outstanding properties even when subjected to the most rigorous testing and weathering simulations.
4. Unparalleled Strength

NyloDeck and NyloPorch are the only composite decking and flooring products rated for twice the load and a 50 percent greater span than other leading deck boards.
While NyloBoard products are rated at 16/200, top competitors are rated at only 16/100. This higher rating allows for building code compliant diagonals at 16" O.C.
A 50% greater span rating (24/100) eliminates the need to add framing at 24" O.C., and reduces the number of joists and fasteners needed for installation.
This strength translates into time and materials savings and creative design options. It also means less flex in the board and a more sturdy structure to support features such as outdoor kitchens, entertainment spaces and hot tubs.
5. Performance Properties

The unique properties of NyloBoard products enable them to perform like no other deck or porch boards.
Ideal for marine applications, NyloDeck and NyloPorch boards are impervious to moisture – even corrosive salt water. They are submersible and will not grow mold or mildew.
They are also impervious to termites. In fact, given the choice to eat NyloDeck or starve, voracious Formosan termites chose starvation during a recent study performed by the Forest and Wildlife Research Center at Mississippi State University.
Lightweight and easy to use, NyloBoard products have the best expansion and contraction rating of all composites. Use of NyloDeck and NyloPorch virtually eliminates worry of board movement due to weather and/or temperature change.
About NyloBoard
NyloBoard, LLC is a manufacturer of superior building products whose patented process uses recycled carpet fiber to create exceptionally strong, durable and eco-friendly products, containing no wood or PVC. NyloBoard products help stop the waste stream of carpet fiber that currently contributes billions of pounds of non-reclaimable waste to landfills each year by using it to create products including NyloSheet®, NyloDeck® and NyloPorch®. Nyloboard also takes pride in manufacturing eco-friendly building products that are impervious to moisture, rot, termites, mold and mildew. NyloBoard's manufacturing facility is located in Covington, Georgia, just outside of Atlanta.