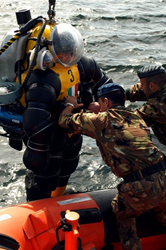 Burnaby, British Columbia (PRWEB) July 24, 2015
OceanWorks International is pleased to announce the completion of system upgrades to the third Italian Navy's HARDSUIT™ Atmospheric Diving System (ADS) designed and delivered by OceanWorks. The conclusion of the work on the third ADS marks the completion of a major survey and upgrade of the Italian Navy's ADS fleet to the Quantum II.
OceanWorks utilized improvements in the subsea thrusters and design upgrades to the buoyancy and backpack system to accommodate the changes in the physical alignment and weight of the Quantum II. In addition, OceanWorks has provided updated communication, electronic, power distribution, and support equipment.
The newly delivered OceanWorks ADS with its increased performance, is a testament to the commitment of the Italian Navy to boost its diving and submarine rescue capabilities.
OceanWorks is an internationally recognized subsea technology company specializing in the design and manufacture of manned / unmanned subsea systems and specialized equipment for military, oil and gas, scientific, and other marine markets. OceanWorks has been at the cutting edge of deep submergence and diving technology for over 20 years. We look forward to providing subsea engineering solutions to our customers for years to come.
For more information on OceanWorks International products and services please visit our website at http://www.oceanworks.com/ or contact us at marketing(at)oceanworks(dot)com.