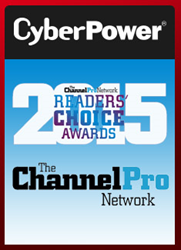 We work hard to anticipate and respond to partner and customer needs, and are pleased when they say we meet or exceed their expectations.
Minneapolis, MN (PRWEB) July 29, 2015
CyberPower Systems (USA), Inc., a global leader in power protection and power distribution equipment for small- and medium-sized businesses, enterprises and home office customers, earned a Silver Award for Best UPS and Power Conditioning Vendor in the ChannelPro-SMB 2015 Readers' Choice Awards.
Readers of ChannelPro-SMB were invited to participate in the channel's only SMB-focused Readers' Choice Awards. For each category, readers were asked to select the option that best satisfies the unique business requirements, work styles, and budgets of their small and midsize business clients, as well as those that best serve their partner organizations.
The multiple-choice survey, which provided space for write-in responses, drew participation from more than 500 VARs, MSPs, integrators, system builders, and IT consultants in the channel. Gold, Silver, and Bronze winners are named in each category.
"Our readers are a selective group, choosing technologies for their own businesses with all the care they take when recommending solutions to their SMB clients," said Cecilia Galvin, executive editor of ChannelPro-SMB. "It is always gratifying to see such a high level of participation in the survey on the part of our readers, which helps us compile the only rankings of this kind for SMBs and the channel companies that serve them."
"This recognition means a lot to us," said Brent Lovett, CyberPower General Manager for North America. "It reflects the opinions of people in the most important market segments and throughout the channel. We work hard to anticipate and respond to partner and customer needs, and are pleased when they say we meet or exceed their expectations."
For a list of winners and finalists, visit http://www.ChannelProSMB.com.
About CyberPower Systems
CyberPower designs and manufactures uninterruptible power supply systems, power distribution units, surge protectors, remote management hardware, power management software, mobile chargers and connectivity products. The company serves customers in enterprise, corporate, government, education, and small office/home office environments. Engineered to meet demanding requirements and exceed international safety and environmental standards, CyberPower products are available through authorized distributors and sold by value-added resellers, system integrators, managed service providers, select retailers, and online resellers. The company has offices and distribution centers in The Americas, EMEA, and Asia Pacific regions. For product inquiries, call 1-877-901-1930 or email sales(at)cpsww(dot)com.To learn more, visit http://www.cpsww.com, or follow us on LinkedIn, Twitter and Facebook.
About ChannelPro-SMB
ChannelPro-SMB, part of The ChannelPro Network, provides targeted business and technology information for IT channel partners who serve small and midsize businesses. Via a monthly magazine and associated online properties, ChannelPro-SMB delivers expert opinion, analysis, news, product reviews, and advice vital to a reseller's business success. Perspectives from VARs, vendors, distributors, and analysts are spotlighted daily. No other media company focuses on the small and midsize marketplace like ChannelPro-SMB. More information is available at http://www.ChannelProNetwork.com.
©2015 CyberPower Systems (USA), Inc. All rights reserved. All other trademarks are property of their respective owners.