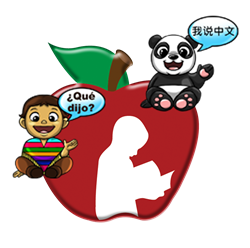 Current users can already take advantage of the first multi-lingual feature, which allows the directions in all three levels of Red Apple Reading to be translated into either Spanish or Mandarin.
San Luis Obispo, CA (PRWEB) April 03, 2015
With thousands of young readers accessing its online reading program, aimed at youngsters ages three to nine in both home and school settings, Red Apple Reading has been an award-winning hit stateside, with more and more youngsters, educators, and parents taking advantage of Red Apple Reading's sound instruction and engaging, animated videos and games.
Tammy Bennecke, founder and president of Red Apple Reading, now has her sights set on a more global delivery. In March, Red Apple Reading unveiled two exciting features to both help English learners grasp a second language, and non-native English speakers find their own way to access the fun, results-driven outcomes of the Red Apple Reading program.
Current users can already take advantage of the first multi-lingual feature, which allows the directions in all three levels of the program to be translated into either Spanish or Mandarin. Accessing the new feature is easy, Bennecke noted in a recent interview.
"When a child is in any level of the reading program, he hears all of the activity directions in English, but can also push a button to hear the directions in Spanish or Mandarin, providing much-needed scaffolding for new English learners," she said.
The Red Apple Reading team made sure their new translation tools kept with the same quality standards the program has become known for. Spanish and Mandarin graphic icons make language selection easy, and professional voice-overs from native speakers of both languages assure a high-quality listening and learning experience.
Beyond its bilingual training, the Red Apple Reading team is uploading additional program components, including the User Guide, to aide teachers and parents for whom English is not their first language.
"This way, parents who may have limited English-language skills can still get the information they need about the program and how it works," Bennecke stated.
In addition, Red Apple Reading is in the process of having their website translated into both Spanish and Mandarin languages, in order to begin promoting the program in Central and South America in the coming months, and in the Chinese market by this fall.
More information on how to obtain the Red Apple Reading program and additional details about its offerings can be found at: http://www.redapplereading.com/pricing.
About Red Apple Reading:
Red Apple Reading was founded in 2011 by educator Tammy Bennecke to help fill in the gaps that so many children have in their developing reading skills. With the aim of fulfilling their motto of "bringing literacy home," Red Apple Reading has developed a complete supplemental reading program for children ages 3 to 9 in pre-kindergarten through third grades, available both online and as mobile apps. Further goals include a monthly eBook service and upper elementary/middle school reading adventure games. Red Apple Reading also plans to expand into other subject areas as the company's growth continues. Find out more about Red Apple Reading at http://www.RedAppleReading.com.