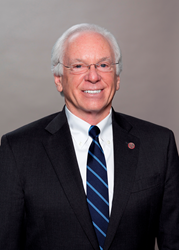 Newark, NJ (PRWEB) June 18, 2015
Reggie J. Caudill, Ph.D., of Princeton, has been named the new dean of the School of Management (SOM) at New Jersey Institute of Technology (NJIT).
Caudill, a professor in the Department of Mechanical and Industrial Engineering, assumed the role of interim dean of SOM in September 2014. Since then, he has led the SOM faculty initiative to develop the 2015 SOM Academic Plan, which provides a roadmap toward the future goals and expectations of the school to clearly differentiate its programs, leverage strengths across the university, and align directly with the NJIT Mission and 2020 Vision strategic priorities. He also guided the hiring of two new assistant professors to strengthen core disciplinary areas within the school and support new strategic research directions.
"We are extremely pleased to appoint Dr. Caudill to this position," said NJIT Provost and Senior Executive Vice President Fadi P. Deek. "With Reggie's leadership and the commitment of its faculty, I am confident that the School of Management will achieve its future goals and help the entire university to realize its full potential."
Caudill previously served as chair of the Department of Mechanical and Industrial Engineering; executive director of the Multi-lifecycle Engineering Center; and as executive director of the Center for Manufacturing Systems. He has authored or coauthored over 100 technical and scientific publications and served as chair of the IEEE Technical Committee on Electronics and the Environment, as well as conference and program chair for international symposia and conferences related to sustainability. He has also served as a member of the advisory committee for New Jersey's Clean Energy Manufacturing Fund. He earned his bachelor's degree in mechanical engineering and his master's degree in engineering mechanics from the University of Alabama and his Ph.D. in mechanical engineering from the University of Minnesota.
The degree programs and research efforts at NJIT's School of Management are directed toward understanding the effects of technology and technological change on business. SOM's goal is to prepare a new generation of technology-savvy business leaders who are ready for the challenges of the continuing technological revolution. For more information, visit som.njit.edu.
About NJIT
One of the nation's leading public technological universities, New Jersey Institute of Technology (NJIT) is a top-tier research university that prepares students to become leaders in the technology-dependent economy of the 21st century. NJIT's multidisciplinary curriculum and computing-intensive approach to education provide technological proficiency, business acumen and leadership skills. With an enrollment of more than 10,000 graduate and undergraduate students, NJIT offers small-campus intimacy with the resources of a major public research university. NJIT is a global leader in such fields as solar research, nanotechnology, resilient design, tissue engineering, and cyber-security, in addition to others. NJIT ranks fifth among U.S. polytechnic universities in research expenditures, topping $110 million, and is among the top 1 percent of public colleges and universities in return on educational investment, according to Payscale.com.