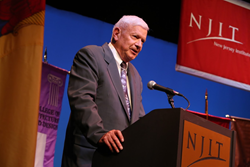 Newark, NJ (PRWEB) June 17, 2015
Robert M. Gogal of Haymarket, Virginia, received an Alumni Achievement Award from New Jersey Institute of Technology (NJIT) on May 15, 2015.
During his tenure as Senior Vice President and General Manager, Aviation Division, Infrastructure & Technology Group, Ralph M. Parsons Co., Gogal oversaw the design and construction of hundreds of new airports, airport security systems, passenger terminal designs and construction, and runway, taxi and navigational systems in the United States and across the globe. Prior to his work in the private sector, he served in the United States military for more than 27 years, most prominently in the United States Air Force. In 1971, he attended the Air Force Command and Staff College, becoming base civil engineer commander in Aviano, Italy, in the following year. In 1977, he was promoted to the position of Colonel, in which he was assigned to the Pentagon and served as Chief of the Housing Division, where he directed maintenance and operation of 155,000 Air Force housing units throughout the world, supervised the construction of new housing communities, including improvements and modernization of existing housing, and solar energy applications. In 1980, he graduated from the Industrial College of Armed Forces, which specialized in the education of management of logistics resource for national security. He received a bachelor's degree in civil engineering from NJIT's Newark College of Engineering in 1958.
Gogal is also a longtime volunteer, serving as a reunion leader for the class of 1958, a member of the Alumni Association Council, and on the President's Council on Alumni.
The Alumni Association of NJIT advances the interests of the university and generates support through the development and implementation of programs, activities, and events for its alumni members and friends. The Association's goal is to facilitate success – in fostering NJIT pride, building Highlander traditions, helping alumni develop opportunities for the university's students, and acknowledging the accomplishments of NJIT graduates in our society. For more information, visit http://www.njit.edu/alumni/index.php
About NJIT
One of the nation's leading public technological universities, New Jersey Institute of Technology (NJIT) is a top-tier research university that prepares students to become leaders in the technology-dependent economy of the 21st century. NJIT's multidisciplinary curriculum and computing-intensive approach to education provide technological proficiency, business acumen and leadership skills. With an enrollment of more than 10,000 graduate and undergraduate students, NJIT offers small-campus intimacy with the resources of a major public research university. NJIT is a global leader in such fields as solar research, nanotechnology, resilient design, tissue engineering, and cyber-security, in addition to others. NJIT ranks fifth among U.S. polytechnic universities in research expenditures, topping $110 million, and is among the top 1 percent of public colleges and universities in return on educational investment, according to Payscale.com.