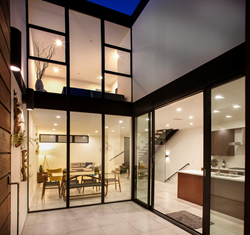 The San Diego Architectural Foundation has been named the tour's local non-profit beneficiary for the second year in a row. The San Diego Modern Home Tour is also a featured event in this year's Archtoberfest!
San Diego, CA (PRWEB) September 28, 2015
Modern Home Tours LLC returns to San Diego in October. During the 2015 San Diego Modern Home Tour, attendees will have the opportunity to explore a handful of modern homes in the San Diego area that exemplify modern architecture and living. Tourgoers can get the inside scoop from homeowners on what it's like to live in a modern home, and talk to the architects to find out where they got their inspiration. This is every San Diego resident's chance to see the inside of 'that unique, cool house you always drive by…'
The San Diego Architectural Foundation has been named the tour's local non-profit beneficiary for the second year in a row. They will help staff the event, in return for a small donation and the opportunity to use the tour as a fundraising vehicle to further their mission of educating and promoting the outstanding architecture, planning and urban design throughout the San Diego region. The San Diego Modern Home Tour is also a featured event in this year's Archtoberfest!
The official line-up of participants and their locations for this year's San Diego Modern Home Tour are:

In the Crown Point neighborhood of Pacific Beach, visit a unit in the new Petros Row Home development, designed and build by Nakhshab Development and Design. The four luxury units have an inward-looking design focused on gracious courtyards, with floor-to-ceiling windows that draw in light while promoting interaction between indoor and outdoor spaces.
Designed by Batter Kay, visit a home perfectly situated at the top of the Del Mar Terrace that enjoys a magnificent flow of light, air and space accented by walls of glass. This home features bamboo flooring, 17+ foot ceilings, a Japanese soaking tub, steam room and sauna, 2 outdoor dining areas, and an oversized private deck above the house with 360 degree view. It's also a total solar powered home! This home is on the market for $3,788,000.
Visit the "WEDGE House," located in University Heights, that showcases a complete renovation by Rinehart Herbst of a 1960's home. The new remodel makes the ground floor into a generous open plan, making visual and social connections to the second-story family room. The addition of 700 sq. ft. steps farther back the higher it goes, wedging in both plan and section.
In La Jolla, visit a brand new, very green home, designed by Simi Razavian of MSA & Associates Inc., for a couple about to retire in southern California. This project showcases an extensive remodel that saw complete demolition of interior walls, while retaining just 50% of the exterior walls. The new design uses a low-profile pyramid-shaped roof with a large pyramid-shaped skylight in the middle to bring in lots of natural light, and clerestory windows (operable by remote) to help create cross ventilation for passive cooling.
Visit a collaboration between Zephyr Partners and Mark Gross & Associates, up north in the Leucadia neighborhood of Encinitas. This brand new home, inspired by California's best contemporary homes, features a floating staircase, exposed beams, brushed concrete floors and use of reclaimed materials throughout bring a utilitarian edge to this home, balanced nicely with disappearing glass walls and copious outdoor living space. This home is also currently on the market, listed at $3,999,000.
Finally, in La Mesa, visit a complete renovation by Stewart Thomas LLC that was considered by most to be a total teardown. Instead, the house was fully gutted inside and out. Every single surface inside was replaced, as well as nearly every piece of the home's exterior. The result is an incredibly fresh, bright and modern home that not only features natural materials and custom woodworking throughout, but is now timeless in design.
Participating homes in the 2015 San Diego Modern Home Tour will open their doors for viewing from 11AM – 5PM on Saturday, October 10th, in the San Diego, California, area. All are invited to attend. Tickets for the tour are $30 in advance online; $40 on the day of the tour. Kids under 12 are FREE when accompanying their parents.
For more details, to see a current roster of homes with details and photos, and to buy tickets for the 2015 San Diego Modern Home Tour, visit: http://modernhometours.com/event/2015-san-diego-modern-home-tour
About Modern Home Tours, LLC: Based in Austin, Texas, Modern Home Tours, LLC was founded by James Leasure in 2010 to introduce modern architecture and living to people across the nation. Through fun and informative tours in dozens of cities across the USA and Canada, the group invites people into some of the most exciting examples of modern architecture and design in the nation. With carefully selected architects, neighborhoods and architecture, the Modern Home Tours are unlike anything you've ever seen. Not only will you learn about the cutting edge of home design while on our tours, but you might even get an idea or two for your next home project!