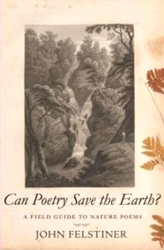 ...now accepting poems that reflect an awareness of the natural world and nature as such. 11th and 12th grade students are invited, without an entry fee, to submit.
Millbrook, NY (PRWEB) February 25, 2015
John Felstiner, Professor Emeritus, Stanford University and Charles Weeden, The Weeden Foundation are delighted to announce the 2015 'Save the Earth Poetry Contest. Over the past several years, this contest has grown as more young adults want to share their imagination and sensitivity as they first truly see our natural, endangered world.
"These poems possess a freshness and insight which is unique in modern poetry," says Charles Weeden, Contest Director. "There are maybe 5-10 poems each year from which I get a rush as I had when I first read John Muir's 'My First Summer in the Sierra' or Gary Snyder's 'Riprap.'
"We also can't say enough about the English teachers in our high schools," furthers Mr. Weeden. "Many do the incredible: Teach our kids how to express the subtleties of their thoughts and emotions. Can there be a harder job in this too-technical, tweeted world?"
2014 winners were:

Nisaa Hawa, Nairobi Academy, Nairobi, Kenya
Rachel Baxter, Phillips Exeter Academy, Exeter, NH
Janet Chen, Alameda High School, Alameda, CA
Jessica Marino, Carnegie Vanguard, Houston, TX
Hope Rodriguez, Onate High School, Las Cruces, NM
Stella Rounsefell, Aiken High School, Aiken, SC
Kai Zhu, Roosevelt High School, Seattle, WA
Please visit our website, http://www.savetheearthpoems.com for more information or to read poems from last year's winners. Students need only send their poems to: Savetheearthpoems(at)gmail(dot)com.