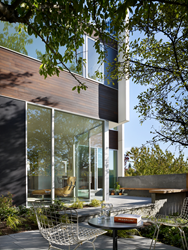 Seattle, Washington (PRWEB) April 24, 2015
The Seattle Modern Home Tour returns next weekend, giving Seattleites the opportunity to explore six modern homes in their own city that exemplify modern architecture and living. Get the inside scoop from homeowners on what it's like to live in a modern home; and talk to the architects to find out where they got their inspiration. This is every Seattle resident's chance to check out 'that cool house down the block…'
Continuing a solid partnership, the Seattle Architecture Foundation has been named the tour's local non-profit beneficiary for the fourth year in a row. They will help staff the event, in return for a donation and the opportunity to use the tour as a fundraising vehicle.
The fourth annual Seattle Modern Home Tour will showcase the work of six (6) homes:
(1) The "Aurea Residence" is a modern home built in the Magnolia area of Seattle. Designed by architect Chris Pardo, the home was constructed to maximize the view of the surrounding area, while also giving a stunning modern twist to the neighborhood.
(2) Located in Seattle's Atlantic neighborhood, the "Backyard House" is a speculative infill development that takes its name from its site—the subdivided backyard of an existing single family house. Designed by SHED Architecture & Design, the house is situated on the western half of the lot on the edge of a bluff and features lots of natural light, floor-to-ceiling glazing in the dining and living rooms, stunning views, and sustainable materials.
(3) The 18th Avenue City Homes project is located on a narrow, sloping lot within the dense, urban Central District neighborhood of Seattle. Designed by architect/developer team Malboeuf Bowie Architecture, the project embraces the three basic principles of good modern design: abundant natural light and ventilation, small spaces that live large, and indoor/outdoor integration.
(4) In Maple Leaf, visitors can see the inside of local notable architect James Chiarelli's personal residence, built between 1948 and 1950, but renovated by current owners, Craig McNary and Adeline Ee, to update the interior while honoring the original design. The home is a bridge between classic mid-century modern and today's design; it is listed in the National Register of Historic Places (2012), the Washington Heritage Register (2012), and as a City of Seattle Landmark (2014).
(5) In the Washington Park neighborhood of Seattle, the comfortably grand and artistic "tree-house", designed by Prentiss Architects, underwent an extensive remodel in 2007 to reflect the owners' desire for a livable contemporary space. The finished result features a number of sustainable choices, including solar-heated water, cabinets crafted of bamboo, Alkemi (a solid surface material composed of recycled aluminum), and a full-height Nana window wall, and ridge skylight which floods the main living area with natural light and offers a view of Mt. Rainier from the dining table.
(6) A second home near Washington Park showcases a complete renovation and transformation of an old 1920 Dutch Colonial into an incredible modern work of art. The new set of pure modern alterations, designed by Eric Cobb of E. Cobb Architects, include a glass roof and large windows, which give credence to the home's new name "Dutch Light". Come see this new modern body inside a classic colonial shell.
Participating homes in the 2015 Seattle Modern Home Tour will open their doors for viewing from 11AM – 5PM on Saturday, May 2nd, in the Seattle, Washington area. All are invited to attend. Tickets for each tour are $30 in advance online; $40 on the day of the tour.
Modern Home Tours is offering a special discount for the back-to-back Portland (April 25) and Seattle (May 2) Modern Home Tours. For details on ticket purchases and an up-to-date participant list, visit: http://modernhometours.com/event/2015-seattle-modern-home-tour
About Modern Home Tours, LLC: Based in Austin, Texas, Modern Home Tours, LLC was founded by James Leasure in 2010 to introduce modern architecture and living to people across the nation. Through fun and informative tours in dozens of cities across the USA and Canada, the group invites people into some of the most exciting examples of modern architecture and design in the nation. With carefully selected architects, neighborhoods and architecture, the Modern Home Tours are unlike anything you've ever seen. Not only will you learn about the cutting edge of home design while on our tours, but you might even get an idea or two for your next home project!