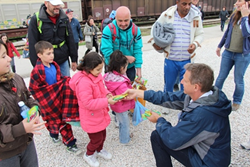 If you can connect with and meet real needs of a people in crisis, there is an opportunity to quickly establish trust.
Detroit, Michigan (PRWEB) October 28, 2015
As the refugee crisis continues to spread across Europe, SEND's International Director, Warren Janzen, and Europe Regional Director, Rex Durham, traveled to Europe from October 14-19 to visit important stops on the refugee road. Their goal was to see the needs first hand and to meet with potential partners to coordinate relief efforts.
Janzen and Durham first went to Korntal, Germany and met with Maite, a refugee specialist. She emphasized the urgency of reaching the refugees with the gospel now. "Working with refugees you have a maximum of two years before they become fully rooted back into their home community and no longer need you." Warren Janzen reflected on the need to first build trust. "If you can connect with and meet real needs of a people in crisis, there is an opportunity to quickly establish trust. The Gospel of Jesus Christ is best communicated and most deeply considered when delivered over bridges of trust."
Next, in Sinsheim, Germany, Janzen and Durham visited a coffee shop that welcomes refugees. The SAM International café offers typical coffee shop fare as well as free internet, table games, children's game times, and lessons on music, painting, and the German language. The local believers who run the shop are eager to listen to refugee stories and build friendships with their customers. "They listen, learn, and help some of these weary travelers process their experiences. At this intersection of cultures and beliefs, they share the love and hope available in Jesus," says Janzen.
From Germany, Janzen and Durham traveled to Macedonia and joined SEND missionaries there in handing out food and toys to refugees along the northern border. "When refugees enter Macedonia from Greece to the south, they must buy a ticket on the train, bus or taxi to make their way four hours north to the border with Serbia. It was at this northern drop off point that we spent part of two days meeting refugees traveling to Germany, Holland, and Sweden."
Between 3,000 and 4,000 refugees pass through here each day. "Many of these refugees are educated and highly motivated to learn about and blend into their new home. Arabic is their native tongue, but many also speak English and are eager to learn German," says Janzen. One family he met was fleeing their hometown in eastern Syria. The patriarch, an experienced engineer, talked about how his hometown had become uninhabitable, how there had been beheadings, and how he had to get his family out of there.
Janzen commented, "Many of these refugees are no different from you and me. They are looking for a safe place to live, a way to provide for their families, a way to feel human again. Being an unwanted guest in so many countries can make them feel like animals rather than humans created in the image of God. We wanted to give them a touch of love, letting them know that they are seen and valued."
There are many possible ways to help the refugees making their way across Europe and settling, many of them, in Germany. The SEND missionaries spent time brainstorming possibilities which included short-term teams handing out food, a kids' zone, a prayer tent, small packs containing food, toiletries, rain ponchos, and SD cards with the Jesus film and Bible translations. They also considered ways to help local police, government officials and villagers. "There are lots of ways in which short and long-term teams could impact not only the refugees, but many others who are caught up in the crisis."
If you are interested in helping the refugees who are flooding Europe, please visit http://www.send.org/refugees to pray, give or go.
SEND International is an interdenominational faith mission agency with around 600 missionaries in more than 20 areas of Asia, Eurasia, Europe and North America. SEND's mission is to mobilize God's people and engage the unreached in order to establish reproducing churches. SEND members are multinational and are recruited and sent from sending offices and partner agencies around the world. For more information on SEND's mission and ministries, visit http://www.send.org.