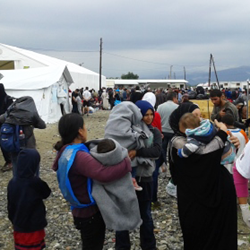 SEND International has set up a $90,000 funding project to help meet immediate needs and plan for long-term engagement with the gospel.
Detroit, Michigan (PRWEB) September 30, 2015
Some have called the refugee crisis in Europe an exodus of Biblical proportion. It is the biggest movement of people since World War II and consists mainly of Syrians, Iraqis, and Afghans. The need for assistance is urgent and significant; with a wide-ranging presence in affected regions, SEND International is raising money to meet the needs of these displaced people.
Changing politics and opinions add to the complexity. Rex Durham, SEND International's Europe Regional Director, says, "The situation is fluid. One day refugees are flooding into Hungary and the next day the border closes, sending migrants around Hungary through Croatia. One day Germany welcomes all Syrian refugees and the next begins to close borders that were once free to all."
SEND has had church-planting missionaries in Europe since 1987, beginning in Spain. They now serve in ten countries across the continent including Bulgaria, Croatia, the Czech Republic, Hungary, Macedonia, Poland, Romania, and Slovenia. Many of these places are along migration routes, especially Macedonia where many migrants are crossing over from Greece. Because of this, SEND missionaries are in a unique position to help these unreached people.
"In addition," says Rex, "we have contacts in local churches and relationships with other organizations like Samaritan's Purse which are organizing for immediate help to the refugees." SEND will partner with these churches and organizations in ministering to the refugees.
The refugees are in need of basic necessities like food and water. As winter approaches they will also need coats and other winter apparel. Long-term needs will include activities for children, ESL, and counseling.
SEND International has set up a $90,000 funding project to help meet immediate needs and plan for long-term engagement with the gospel. Some of those funds will be used to purchase SC cards containing the Bible in Arabic. "Most of these migrants are traveling with cell phones and have a lot of time for reading while they wait from place to place," writes Rex. SEND is also hoping to distribute winter clothes in partnership with Samaritan's Purse. Rex adds, "Should the Lord supply through the SEND project, we will help in any way we can to meet the physical needs of these folks." People interested in giving can visit https://apps.send.org/give/projects/refugees-in-europe to donate.
SEND leadership continues to explore how to most strategically use available resources. Rex Durham will be traveling to Europe in October with SEND's International Director, Warren Janzen, to explore opportunities and talk with SEND missionaries and partners on location. The Europe Refugee Fund is only the beginning. Future work may include short-term missions teams and church planting efforts among settled migrants.
The most immediate need is funding. "In addition," says Rex, "readers can pray for wisdom for SEND leadership as we look not only at short-term ministry, but also at possible church planting among these people in places they will settle." Also, people need to be "ready to go." "We can envision the need for short-term teams to go and work with us and our partners to engage migrants in a number of places in Europe….Everything has been taken away and created a vacuum that is ready to be filled with the gospel."
SEND International is an interdenominational faith mission agency with around 600 missionaries in more than 20 areas of Asia, Eurasia, Europe and North America. SEND's mission is to mobilize God's people and engage the unreached in order to establish reproducing churches. SEND members are multinational and are recruited and sent from sending offices and partner agencies around the world. For more information on SEND's mission and ministries, visit http://www.send.org.