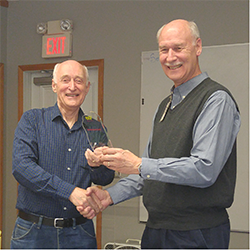 Today over 300,000 students learn biblical values each week in over 850 schools (in the Philippines).
Detroit, Michigan (PRWEB) December 16, 2015
SEND International is celebrating the impact their missionaries have made in the Philippines. Last April, VOICE (Values Orientation In Classroom Education) celebrated its 10 year anniversary in Quezon City, Philippines. Since 2005, the organization has been developing curriculum and equipping local Filipino churches to teach Bible-based morals in public schools. Today, over 300,000 students learn biblical values each week in over 850 schools nationwide. On December 14, 2015 a plaque commemorating the contributions of SEND International arrived in the North American Offices of the evangelical missions organization.
During the anniversary celebration, VOICE recognized key individuals and organizations who have been integral to VOICE's success and growth. Among others, SEND International was recognized. Jake Leyenaar, a missionary from SEND Canada who worked for four years with VOICE, was there to accept a plaque.
It was SEND missionaries Laura Bonney and Ruth Haynes who, along with Filipino pastor Tony Elizaga, answered the Philippines' president's call for values education. They developed a program to mobilize and equip Bible-believing churches to teach weekly Biblical values classes in public schools. The curriculum is values focused and the Bible is used in each lesson with the gospel being explained at the end of each module of curriculum.
SEND International was also integral in raising several hundred thousand dollars in startup funds for VOICE. At the time, Terry Harder was the Director of Development for SEND International's US Office. He met with many donors and organizations to seek out funds for this vital program. He still considers it one of the most exciting projects he has ever worked on.
On December 14, 2015, Jake Leyenaar traveled to the US Office to present the plaque from VOICE to Terry Harder. The plaque reads: "With our heartfelt gratitude we present this plaque of appreciation to SEND International for its partnership, dedication and support in working together in the Lord's vineyard to raise God-fearing and law-abiding younger generation through values formation classes in the public schools and communities. Hence, the young are equipped to make the right choices, can have more open doors of opportunities in life, and are trained to become good and productive citizens of the country."
VOICE is now being developed for schools in Uganda and throughout East Africa. Bonney and Haynes moved there in July 2013 to work in partnership with World Venture. They have already completed the first few modules and are excited to see this program reaching students on two continents.
SEND International continues to offer support to VOICE Philippines. If you would like to participate in this project, visit http://www.send.org/info/philippines-voice/.
SEND International is an interdenominational faith mission agency with around 600 missionaries in more than 20 areas of Asia, Eurasia, Europe and North America. SEND's mission is to mobilize God's people and engage the unreached in order to establish reproducing churches. SEND members are multinational and are recruited and sent from sending offices and partner agencies around the world. For more information on SEND's mission and ministries, visit http://www.send.org.