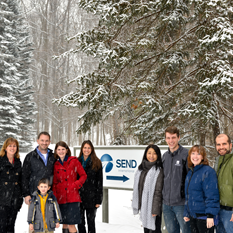 SEND's mission is to mobilize God's people and engage the unreached in order to establish reproducing churches.
Detroit, Michigan (PRWEB) January 28, 2015
On SEND International's US campus in Farmington, Michigan, eight people have just endured a week of evaluations and interviews to determine if missions with SEND is right for them. All eight were accepted for their various ministries in one of SEND's 20 areas of the world. These new candidates will have one more week of training before going out to raise support for their ministry with SEND.
Steve Baker, the Director of Personnel Selection & Training for SEND-USA, said, "I am delighted to announce that all eight people have been appointed to long-term missionary service with SEND International. Would you join me in praising God for His direction, wisdom, guidance and strength for not only the candidates but also everybody else involved in the process?"
Among the new candidates are Andy and Abby Gilbert, church planters in Tennessee. Their new role with SEND will be to return to southeastern US to recruit new missionaries. Andy says, "This new role will utilize the administrative and organization skills I gained working in a secular job, as well as using my seminary background and teaching gifts. I am excited to lock arms with those looking for a way to go [into missions] and providing them the steps to do so. I look forward to the daily opportunities to guide and nurture these future missionaries out onto the field."
Another new candidate is Alex Logan who will be headed to Japan to work with youth. "The pressure that these Japanese students feel is some of the highest they will feel in their entire life. They need to perform well and few people simply love them." Alex wants to show those students God's unconditional love.
The other new missionaries include Lisa Antonishek headed to Spain, Mike and Sheryll Warner preparing for work in a remote Alaskan village, Shigeko Yamaguma going to Japan, and Stephanie Lankhorst bound for Bulgaria.
SEND International is an interdenominational faith mission agency with approximately 600 missionaries in more than 20 areas of Asia, Eurasia, Europe and North America. SEND's mission is to mobilize God's people and engage the unreached in order to establish reproducing churches. SEND members are multinational and are recruited and sent from sending offices and partner agencies around the world. For more information on SEND's mission and ministries, visit http://www.send.org.