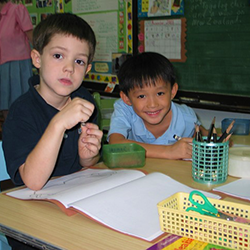 From the launch of SEND International 70 years ago, the education and care of the MKs (missionary kids) has been a priority.
Detroit, Michigan (PRWEB) September 02, 2015
The evangelical missions organization is actively working with missionary families to ensure the 2015-2016 school year will be a great one.
Amanda Benson recently arrived in the Philippines for her first year of teaching at Faith Academy in Manila. She came prepared to teach 6th grade math, science, and Asian social studies. However, the school was unable to find an English teacher and she was asked to take over those teaching duties as well for the 33 6th grade students. She also initiated an "adopt-a-student" program, asking people to pray daily for one of her students. By mid-August, she had found prayer partners for each one. SEND International can connect prayer and/or financial supporters with teachers and students who desperately appreciate the assistance this school year.
Around the globe, SEND MKs (missionary kids) are headed back to school. Their school settings are as varied as the countries they live in: national schools, international schools, Christian schools, one-room schools, and homeschools. One thing they have in common – structured support from a team of education specialists.
SEND has long valued education for the whole family. With missionaries all over the world, SEND International is providing guidance to students (and their families) literally all across the globe. It is a vital, and carefully coordinated effort.
Lack of education options for MKs has long been a major obstacle for families considering missions and a major reason families leave the mission field early. SEND's TCK (Third Culture Kid) Education Coordinator, Judy Severns, explains, "MK education is one of those things that will make or break missionary families.
The founder of a large mission agency, Cameron Townsend, once said that "if we don't address the educational needs of the children of missionaries, we will lose missionaries most likely at the point where their service is becoming most effective. And so it's imperative that we address the education needs of children."
From the launch of SEND International 70 years ago, the education and care of the MKs has been a priority. SEND's first director, Phil Armstrong, remarked, "Because we believe the missionary family is a God-given unit of evangelization, we seek to provide for education of missionary children K through 12 so the missionary family can remain as a unit during its service." To do that, SEND utilizes education consultants and teachers to offer the best options to our missionaries.
Judy is one of those consultants. She meets with parents during training sessions on SEND's campus to discuss options and recommend resources. "As TCK education coordinator, my job is to ensure that all of the children who go with SEND missionaries all over the world are provided with an education to meet their needs, an education that is adequate. My job is to encourage parents in whatever education option they choose for their children."
SEND also has several missionaries who serve with SHARE, an educational resource group whose consultants are based in Budapest, Hungary but travel the globe offering seminars. After a recent conference in Central Asia, Larry Milks, who works with SHARE, wrote, "The workers there feel rather isolated, and they greatly appreciate anyone who comes all the way out to serve them. One parent told me that they feel like they live at the end of the earth, and that a team of people who care enough to come that far to serve them is a huge blessing." The conference served 23 families from 10 different organizations. It included plenary sessions, workshops, academic testing, parent conferences, children's program, and a teen career exploration seminar.
SEND also has many missionaries who serve as teachers. They teach in Alaska, Hungary, the Philippines, Japan, Spain, and Russia, and have a huge impact on their students. As Judy says, "Future generations will declare the glory of God. Many times it starts and comes from the heart and compassion of a teacher."
These schools are always in need of more educators. Anyone interested in international teaching opportunities can visit SEND's website.
Judy Severns, who once served as a teacher and administrator at Faith Academy in the Philippines, is grateful for the role she gets to play in many missionary families' lives. "As I've been associated with SEND International, it's been a privilege to facilitate the work of the spread of the gospel through church planting, and fulfilling the mission of SEND by serving families, participating with the education of their children. As I help with the education of children, it frees parents up for ministry. And I find that very fulfilling."
SEND International is an interdenominational faith mission agency with around 600 missionaries in more than 20 areas of Asia, Eurasia, Europe and North America. SEND's mission is to mobilize God's people and engage the unreached in order to establish reproducing churches. SEND members are multinational and are recruited and sent from sending offices and partner agencies around the world. For more information on SEND's mission and ministries, visit http://www.send.org.