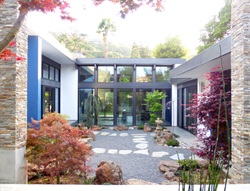 Silicon Valley, CA (PRWEB) May 11, 2015
Modern Home Tours returns to Silicon Valley this Saturday, May 16th. The self-guided driving tour features six architecturally progressive and contemporary homes that exemplify modern living in the Silicon Valley area. Tourgoers will get the opportunity to see inside-and-out of these amazing private homes, and meet the architects and homeowners.
This year's Silicon Valley Modern Home Tour has been jointly curated with Monique Lombardelli of Modern Homes Realty, a local expert on mid-century architecture. As a result, the tour features several classic and well-known mid-century homes.
Six homes accepted and confirmed include:
(1) A true gem of a historic home in San Mateo, originally designed by Pietro Belluschi in 1958, and updated by the current owner. Dubbed "Life House," this contemporary award winning split level home includes a steam room, outside spa, two fireplaces, wrap around decking, and a landscaped garden with a view of Treasure Island on the San Francisco Bay. Monique Lombardelli will be showing her documentary film "People in Glass Houses: The Legacy of Joseph Eichler" at this location.
(2) A brand new home in Belmont, designed by Klopf Architecture, that features open spaces while remaining close to the ground, to give a sense of connection with nature in what can be called a Modern Atrium House. The home features a central stacked stone fireplace chimney that shoots up through a skylight, a larger-than-usual green and natural back yard, and an efficient energy performance level that exceeds California's strict energy code by almost 40%.
(3) An Eichler-style home in Palo Alto, designed by Ashen and Allen, that is a rare Mid-Century Modern home with original details and features the very popular post and beam construction and gives way to plenty of light with floor to ceiling glass. A rare gem that not many ever get to see.
(4) An atrium-style Eichler home in Sunnyvale, originally built in 1967, that was recently entirely renovated by M110 Architecture to include a new metal roof, updated kitchen and family room, and new, fresh landscaping.
(5) Another historic home, designed by Beverly "David" Thorne (the last living Case Study House architect), located in the Alpine Hills neighborhood of Portola Valley. Originally built in 1960 for Frank Norton, an employee of Bethlehem Steel, and his wife Ruthe, the house is a very simple and relatively modest steel post and beam module that ties together with a flat wood roof, extensive use of glass, and redwood decking.
(6) A second home in Palo Alto is a Klopf Architecture-designed renovation of a classic Eichler, dubbed "The Truly Open Eichler." The completely openable walls allow the homeowners to truly open up the living space of the house, transforming it into an open air pavilion, extending the living area outdoors to the private side yards, and taking maximum advantage of indoor-outdoor living opportunities.
Participating homes in the Silicon Valley Mid-Century and Modern Home Tour will be open for viewing from 11:00 am – 5:00 pm on Saturday, May 16, around the Silicon Valley. All are invited to attend. Tickets for each tour are $30 in advance online; $40 on the day of the tour.
For more information on the 2015 Silicon Valley Mid-Century and Modern Home Tour and to purchase tickets, visit: http://modernhometours.com/event/2015-silicon-valley-modern-home-tour
About Modern Home Tours, LLC: Based in Austin, Texas, Modern Home Tours, LLC was founded by James Leasure in 2010 to introduce modern architecture and modern living to people throughout the world. Through fun and informative tours in dozens of cities across North America, the group invites people into some of the most exciting examples of modern architecture and design that can be found. With carefully selected architects, neighborhoods and living spaces, a Modern Home Tour is unlike anything you've ever seen. Not only will you learn about the very latest in home design while on our tours, but you might even get an idea or two for your next home project!