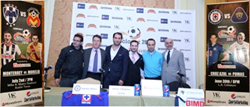 "Cruz Azul has a great fan base in the United States, we have been participating in high competition and preparation games in Dallas for various years and we are very happy to be able to participate in this Cup" - Agustin Manzo
Dallas, Texas (PRWEB) March 12, 2015
Cruz Azul Futbol Club, Monarcas Morelia, Club De Futbol Monterrey, and Pumas UNAM will be participating in the 2015 SocioMX Cup, which will consists of four matches. The first match will take place between Cruz Azul and Pumas UNAM will kick-off the 2015 SocioMX cup in Los Angeles' LA Coliseum on June 30th followed by the second match on July 2nd in Austin, Texas at the Mike A. Myers stadium. The final matches will be a double-header on July 5th at the Cotton Bowl Stadium in Dallas, Texas where the SocioMX Cup Champion will be determined.
Agustin Manzo, Sporting Director of Cruz Azul F.C., Pablo E. Boy Espinoza, President of Monarcas Morelia, Luis Miguel Salvador, Sporting President of C.F. Monterrey and Antonio Sancho, Sporting director of Pumas UNAM showed their appreciation to the promoters and highlighted the importance of the participation in this event during the summer. "Cruz Azul has a great fan base in the United States, we have been participating in high competition and preparation games in Dallas for various years and we are very happy to be able to participate in this Cup" said Agustin Manzo, Sporting Director of Cruz Azul F.C.
"SocioMX Cup is growing in relevance and prestige among fans every year in the United States and will be broadcasted in more than 20 countries by ESPN" commented Javier Villalobos, promoter and president of Sports Marketing Monterrey.
"Tickets for the SocioMX cup will go on sale on March 24th and will be the most accessible and affordable tickets in the United States for this level of competition."- Said Jorge Villalobos, CEO of Sports Marketing Monterrey.
Tickets can be purchased through authorized point of sales. Ticketmaster.com and El Rancho Supermarkets for the Dallas matches, through ticketmaster.com for the Los Angeles match, and through the University of Texas ticket point of sales for the Austin match.
For more information on the SocioMX Cup, please visit http://www.socio.mx.
Cup Schedule:
Los Angeles: June 30th at 8:00 p.m., (PST) Los Angeles Coliseum
Cruz Azul VS. Pumas
Austin: July 2nd at 8:00 p.m., (CT) the Mike A. Myers stadium
Monarcas Morelia Vs. C.F. Monterrey
Dallas: July 5th at 3:00 and 6:00 p.m., (CT) Cotton Bowl Stadium
Matchups determined by semi-finals results.
About SocioMX:
SocioMX is a platform that enables Fans to interact and connect on a deep level with their favorite Clubs in multiple ways, from digital, merchandising and experiential.
For more information please visit http://www.socio.mx, at facebook.com/socioMXfan or on twitter @Socio_MX.
About Sports Marketing Monterrey:
Founded in the city of Monterrey, Mexico by successful brothers Jorge and Javier Villalobos, with offices in United States. Sports Marketing Monterrey is focused on helping companies, Non-profit organizations, Pro-Teams, athletes and governments connect with the Hispanic market in meaningful ways.
The agency currently represents over 47 professional athletes worldwide and promotes professional soccer match games with the TOP elite teams from Mexico and South America, among having the exclusive rights of elite Soccer Teams in United States for marketing, merchandising, match games, among other categories.
At an International level, Sports Marketing Monterrey provides consulting and business development services to companies, governments and sports clubs.
For more information contact Valeria De Fex at 214.466.7330 or visit: http://www.sportsmarketing.com.mx or on twitter @SportsMKTMTY