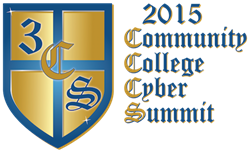 Las Vegas, Nevada (PRWEB) March 11, 2015
The Community College Cyber Summit (3CS) is welcoming dozens of new sponsors and attendees for its 2015 conference at the College of Southern Nevada in North Las Vegas. The 2015 conference, organized by the National CyberWatch Center, is expected to be one of the largest gatherings of community college cybersecurity faculty in the world.
The mission of the conference is to facilitate and encourage cybersecurity education at the nation's community colleges. With support from advanced technological education centers of excellence like the Center for Systems Security and Information Assurance (CSSIA), the Cyber Security Education Consortium (CSEC), CyberWatch West, and the Advanced Cyberforensics Education Consortium (ACE), faculty members from around the nation are expected to attend.
Sponsoring the conference is an excellent opportunity for businesses to get their names out to this hard-to-reach but extremely influential segment of higher education workers. Previous sponsors have included many types of companies with strong interests in developing cybersecurity education: hardware manufacturers, software firms, cybersecurity companies and certification vendors have all seized the opportunity.
Sponsoring 3CS is easy and affordable, thanks to three distinct tiers of sponsorship: silver, gold, and platinum.

Silver sponsors get their logos prominently displayed on the 3CS website, and have the opportunity to present a poster at one of the conference coffee breaks. The silver category is priced at $1,500.
Gold sponsors get their logos on the 3CS banner, a display booth, and access to a social media partnership with the conference itself, among other benefits. Gold sponsorship runs $3,500.
Platinum sponsors get their logos on all conference-affiliated materials, a double-sized display booth, a guaranteed speaking engagement and a dedicated social media channel. Platinum sponsors contribute $5,000 to the conference.
The cyber attacks on Sony grabbed headlines and sparked a national debate on how to handle the millions of unwelcome attacks online that occur each month. Unfortunately, the education system has so far failed to produce enough talented tech workers to keep up the fight.
Community colleges are quickly moving to center stage in the national debate on higher education. Thanks to their small class sizes and teaching-oriented pedagogy, these institutions are leaders in every field of education related to cybersecurity. The cybersecurity industry recognizes the importance of helping colleges educate young people to become the next generation of cybersecurity specialists.
Businesses and organizations interested in sponsoring the 2015 3CS can learn more at http://www.regonline.com/2015communitycollegecybersummit.