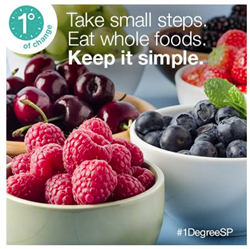 (PRWEB) July 23, 2015
Standard Process Inc.'s marketing department earned three national awards for its communications and creative efforts. The awards were received from Bulldog Reporter, a provider of PR media intelligence, and Graphic Design USA, a news magazine for graphic design artists since 1963.
Standard Process was among 67 winners selected from hundreds of entries representing strategic and tactical expertise in public relations in the Bulldog Reporter award program. The company earned a Silver Bulldog Digital/Social PR Award for excellence in social network messaging for its "One Degree of Change" strategy.
The social media strategy was a part of an integrated campaign that featured the Standard Process 21-Day Purification Program and three-time Olympic gold medalist Kerri Walsh Jennings. It was designed to engage the company's social media community in sharing purification experiences, specifically how one small positive change can affect a whole life and establish a new path to wellness.
The strategy exceeded its goals, gaining a much higher than expected community engagement rate. Additionally, the company's top three "One Degree of Change" posts earned engagement rates greater than the established goal.
The Graphic Design USA Inhouse Design awards recognize the creative work of corporate in-house designers. Standard Process' designers received recognition for two entries in this year's competition, which received 6,000 entries.
The first winning design was a part of the company's NutriSync® Genetic Nutrition and Fitness Assessment product launch. NutriSync is a nutrigenomics tool that provides customized diets, exercise plans and supplement recommendations based on each patient's genetics and lifestyle. The second winning entry helped promote the company's adrenal health campaign, with coordinating flyers, posters, order inserts and acrylic display signs. All winning entries will be showcased in the publications' July/August edition and online at gdusa.com.
To learn more about these and other awards Standard Process has received, visit the company's Awards page at standardprocess.com.
###
About Standard Process Inc.
For more than 85 years, Standard Process has been the visionary leader in whole food nutrient solutions. Headquartered in Palmyra, Wisconsin, Standard Process offers more than 300 high-quality supplements with whole food ingredients through three product lines: Standard Process and Standard Process Veterinary Formulas supplements, and MediHerb herbal supplements. The products are available exclusively through health care professionals.
Dedicated to the whole food philosophy of founder Dr. Royal Lee, Standard Process' goal is to ensure that its nutritional supplements deliver the complex nutrients as nature intended. To accomplish this, Standard Process grows the majority of its ingredients on company-owned, organically certified farmland. The company uses state-of-the-art manufacturing processes to retain vital nutrients within each ingredient and employs high quality control standards, including adhering to the Food and Drug Administration's good manufacturing practice requirements.
Standard Process employs more than 330 people. The company is a recipient of the Platinum Well Workplace Award from the Wellness Councils of America and has distinguished itself as a leader and innovator in workplace promotion. In 2014, Standard Process launched Cultivate by Standard Process, a business that delivers scalable wellness solutions to impact individual employees and the overall company using onsite chiropractic as a central component of the program.
Standard Process is also distinguished as an exemplary environmental citizen. The company is a Tier I participant in the Wisconsin Department of Natural Resources' Green Tier program, which recognizes companies with strong environmental compliance records. For additional information about Standard Process, visit standardprocess.com.