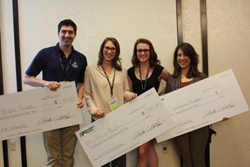 PALMYRA, Wis. (PRWEB) June 29, 2015
For the seventh straight year, Standard Process Inc. awarded $10,000 in scholarships to Student American Chiropractors Association (SACA) members. Four students each received $2,500 during the National Chiropractic Legislative Conference (NCLC) held earlier this year in Washington, D.C.
This year's winners were: Brent Friess of the University of Western States; Mackenzie Hubert and Ashlee Kates of New York Chiropractic College; and Anna Pearl of Southern California University of Health Sciences.
For the second year in a row, Standard Process requested video submissions versus a written essay for its SACA scholarship program. The top eight entries were selected by Standard Process and posted to the Standard Process YouTube channel.
The public voted via YouTube for the student they thought best expressed their ideas about was the most important thing that they wanted to teach to patients. The top four entries with the most votes were selected as scholarship winners. The eight finalists' videos received nearly 7,000 views total on YouTube.
SACA members in good academic standing who are able to attend the 2015 NCLC were eligible to apply for the scholarships. In addition to their video submission, applicants provided a list of their contributions to the chiropractic profession and current GPA.
If you are interested in learning more about this scholarship program and others offered by Standard Process, contact Lisa Hackett, professional development coordinator, at 800-848-5061, or by email at lhackett(at)standardprocess(dot)com.
###
About Standard Process Inc.
For more than 85 years, Standard Process has been the visionary leader in whole food nutrient solutions. Headquartered in Palmyra, Wis., Standard Process offers more than 300 high-quality supplements with whole food ingredients through three product lines: Standard Process and Standard Process Veterinary Formulas supplements, and MediHerb herbal supplements. The products are available exclusively through health care professionals.
Dedicated to the whole food philosophy of founder Dr. Royal Lee, Standard Process' goal is to ensure that its nutritional supplements deliver the complex nutrients as nature intended. To accomplish this, Standard Process grows the majority of its ingredients on company-owned, organically certified farmland. The company uses state-of-the-art manufacturing processes to retain vital nutrients within each ingredient and employs high quality control standards, including adhering to the Food and Drug Administration's good manufacturing practice requirements.
Standard Process employs more than 330 people. The company is a recipient of the Platinum Well Workplace Award from the Wellness Councils of America and has distinguished itself as a leader and innovator in workplace promotion. In 2014, Standard Process launched Cultivate by Standard Process, a business that delivers scalable wellness solutions to impact individual employees and the overall company using onsite chiropractic as a central component of the program.
Standard Process is also distinguished as an exemplary environmental citizen. The company is a Tier I participant in the Wisconsin Department of Natural Resources' Green Tier program, which recognizes companies with strong environmental compliance records. For additional information about Standard Process, visit standardprocess.com.