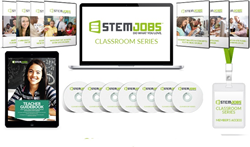 "Teachers play a critical role in revealing to students the beauty and excitement of studying science, technology, engineering and math─and then connecting those challenging subjects to the real world," commented Daniel Nichols, President of STEM JobsSM
Pittsburgh, PA (PRWEB) March 10, 2015
STEM JobsSM, Victory Media's national K-12 STEM solutions platform, has partnered with leading educators to develop the research-driven STEM JobsSM Classroom Training Series. The newest program from one of the top national voices in addressing the STEM skills gap, the unique Classroom Training Series introduces teachers from coast-to-coast to "7 principles of practice" that will immediately help build classroom environments where all students can feel comfortable and successful at studying STEM. The Classroom Training Series complements the suite of STEM Jobs SM media and digital tools for high school students designed to connect classrooms to careers in a way that encourages teens to pursue what they love.
"Teachers play a critical role in revealing to students the beauty and excitement of studying science, technology, engineering and math─and then connecting those challenging subjects to the real world," commented Daniel Nichols, President of STEM JobsSM at Victory Media. "Research illustrates that today's teens are interested in pursuing meaningful work and rewarding careers. Showing them the intriguing problems STEM fields confront─and how STEM professionals are in a unique position to solve the world's most vexing problems─is key to inspiring them to pursue STEM learning and to address the larger economic issue of a skills shortage."
The STEM JobsSM Classroom Training Series begins with a series of free videos addressing the top three issues STEM teachers face. Each video defines STEM for a classroom setting, provides actionable steps to address STEM-subject anxiety in students, and places STEM learning within the context of the STEM JobsSM "Do What You Love" message and mission.
According to Nichols, the five-module, 34-lesson series is one step in helping equip and empower teachers to engage students before they decide on a career--or decide against one. "STEM JobsSM helps answer the age-old question every student asks--'when am I ever going to use this? We tell them about real-life, interesting jobs and that it really is possible to 'Do What You Love' for a living."
"The STEM JobsSM Classroom Training Series features research-based principles that address the challenges teachers face every day: engaging students and inspiring them to pursue STEM careers," explains Dr. Candace Walkington, Assistant Professor of Mathematics Education at Southern Methodist University.
STEM JobsSM delivers a number of services to colleges, employers and school districts nationwide, such as performance benchmarking, recruiting solutions, workforce advisement and professional development tools, as part of its mission to bridge the gap between the classroom and high-growth careers in STEM.
For additional information about the Classroom Training Series, visit us at http://classroomseries.stemjobs.com. For more about the mission and services of STEM JobsSM, please visit us at stemjobs.com.
# # #
For additional information or to arrange interviews contact:
BP Media Relations, LLC
Barbara Pflughaupt at 212-707-8181 or Gabrielle Torello at 917-312-2832.