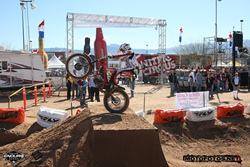 This event will definitely give everyone of all ages an appetite for thrills.
Salt Lake City, UT (PRWEB) July 30, 2015
The Stunt Run by day, an Endurocross race and exciting Thrillbilly Mega Ramp exhibition by night, this event is shaping up to be the most unique take on action-packed, family-friendly outings.
Developed by Hollywood stunt producers, the Stunt Run is a unique obstacle run geared towards anyone looking for a thrill. The race will take place on Saturday, September 26th at Veterans Memorial Park in South Jordan, UT. Participants can expect ultra-premium stunts including the world's largest inflatable water slide featuring a mega-ramp jump, the stunt trike rally, pole vault, stuntman free fall and eight other incredible stunts.
The brainchild of a creator of action sports entertainment and TV's top rated stunt shows, the original Nitro Circus and Thrillbillies, the Stunt Run brings extreme thrills to the masses in a safe, fun environment. A portion of the proceeds from the event benefit Be The Match®, the nation's largest and most diverse bone marrow registry that matches patients with life-saving donors and provides support through the transplant process. Be The Match® will be on-site for participants wanting to join the registry.
EnduroCross is the new up and coming sport in motorcycle racing, explains Bryan Green, Owner of Edge Powersports, the company behind the race portion of the day. "Take all the excitement of Motocross but make the jumps and ruts out of rocks and logs. You mix in a little mud, sand, and concrete and you have a recipe for a wild show."
In addition to the Stunt Run and EnduroCross race, fans can catch the high-flying antics of the professional ThrillBilly team as they fearlessly jump off, launch from, and sometimes crash into their Mega Ramp.
"The combination of motorcycles and stunts at this event will definitely give everyone of all ages an appetite for thrills. Stunt Run has partnered with Hard Core Enduro and us ThrillBillys to create an exciting, one of a kind day of action that everyone can enjoy and actually participate in!" says Jared Willardsen, Stunt Creator at ThrillSeeker Stunt Run and the ThrillBilly's show.
Event Highlights: With evermore-extreme stunts popularized on the internet and TV, the ThrillSeeker Stunt Run is designed to bridge the gap between safety and adrenaline. The Stunt Run showcases advanced stunt rigging, airbags, and inflatables granting broader access to a bolder form of obstacles not limited by mud, electric shock, cold, extreme fitness, or trending gimmicks found in other running events. The Stunt Run also throws in world-renowned DJ Will Gill, local food trucks, and a family friendly Kid's Stunt Run (ages 6-12), so that there's something for everyone.
When: Saturday, September 26, 2015
8 a.m. Stunt Run start time, with waves starting every 15 minutes
3 p.m. Kid's Stunt Run start time (open to ages 6 through 12)
Where: Veterans Memorial Park
1985 W 7800 S
West Jordan, Utah 84088
Tickets: Visit the official website at http://www.stuntrun.com
About ThrillSeeker Stunt Run
The ThrillSeeker Stunt Run is a one-of-a-kind course designed by Hollywood stunt producers. Produced by a creator of Nitro Circus and Thrillbillies, the run includes over a dozen stunts, giving participants the opportunity to experience "as seen on TV" challenges in a fun environment with friends and family.