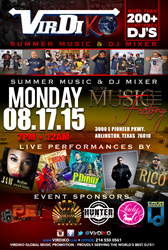 "The VirDiKO Music & DJ Mixer is a must attend music industry event! Building effective relationships begin with being present." Ricardo Hunter, Hunter Promotions
Dallas, TX (PRWEB) August 07, 2015
Based in Dallas, Texas, VirDiKO is a proven and respected music promotion company known for marketing and creating brand awareness of artists to disc jockeys (DJ's) and key entertainment industry professionals around the world. VirDiKO was first launched in 2008 and quickly recognized the need for enhanced networking and relationship building opportunities amongst local, regional and national entertainment industry professionals. After several years of informal meetings with local DJ's, VirDiKO formalized the event and created the VirDiKO Music & DJ Mixer events held two times a year in the Dallas-Fort Worth market. The upcoming highly anticipated event will be on August 17th, 2015 at The DFW Music Factory (conveniently located at 3008 East Pioneer Parkway, Arlington, Texas 76010).
The event itinerary includes a DJ/Artist Networking Session, an educational DJ Panel, VirDiKO #WeWORK Awards presentation, new music listening session and artists performance showcase. Music specialists will provide key knowledge to amateurs and professionals in an open forum for artists, producers, disc jockeys, and musicians. Confirmed with over 250 of the southern region's most influential disc jockeys from various coalitions and radio stations, guests have an opportunity to formally meet and mingle while gaining inspiration from those disc jockeys maintaining a strong footing in the industry.
VirDiKO Founder, "big daddie THE DJ," a seasoned veteran disc jockey and business professional, is listed as one of the keynote speakers showcased at the event previously known to attract numerous artists and entertainment industry subject matter experts ready to network and share valuable information. Attendees can expect to plug into valuable knowledge moving the industry forward, including information from equipment manufacturer representatives lending essential tips and skills.
Doors open for musical tastes and talents at 7:00 P.M. until midnight. Complimentary admission provided to disc jockeys registered at http://www.VirDiKO.com. All other guests are required to invest $20 to attend the event devoted to advancing their talent in the competitive entertainment industry. Sponsors include MyEnergyPlug.com. Lady C Productions, Team Bigga Rankin, Loud Designs, PE Images and Hunter Promotions. One of the events sponsors, Ricardo Hunter of Hunter Promotions co-signs the event by saying, "The Virdiko Music & DJ Mixer is a must attend music industry event! Building effective relationships begin with being present."
About VirDiKO:
VirDiKO is an abbreviation for Virtual Distribution "KO"mpany. VirDiKO is a premier provider in web based promotions and marketing of music to DJs and entertainment industry professionals worldwide. The proven and highly respected VirDiKO website platform constantly delivers and exceeds expectations by efficiently and cost effectively product brand building and connecting veteran and amateur artists of music, poetry, production, photography, comedy, and dance with the VirDiKO global supporters and subscribers.
To inquire about this event, including how to become a sponsor, please contact:
VirDiKO Global Music Promotion
http://www.VirDiKO.com
Twitter: @VirDiKO
Instagram: @VirDiKO