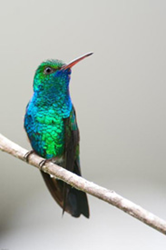 What an amazing place to photograph wildlife! -- A former tour participant
Miami, FL (PRWEB) March 30, 2015
The June 18 – 23 "Hummingbirds of Trinidad and Tobago" tour, with an optional extension to Tobago June 23 - 27, will feature Sheri Williamson, co-author of "Hummingbirds, A Life-size Guide to Every Species". For centuries, Trinidad was known as "Iëre" — or the land of hummingbirds — to the Arawak people. Today, Trinidad and Tobago are home to 17 species of these avian delights. Ornithologist and hummingbird authority Sheri Williamson will lead the tour with an in-depth look at Trinidad & Tobago's amazing hummingbirds. This session is designed to provide close-up views and ample photographic opportunities. Guest speaker Martyn Kenefick, coauthor of "Birds of Trinidad & Tobago", will join the group.
Award-winning Trinidadian photographer Roger Neckles will lead the July 6 – 12 session (with an optional Tobago extension July 12 – 15), entitled "Capture Nature like a Pro." Suitable for amateur or semi-professional photographers, this tour is paced for photographers — not birders! Field discussions include time to experiment with composition, shutter speed, aperture, and other camera functions. The beautiful and wildlife-rich Asa Wright Nature Centre, as well as carefully-selected field locations, will provide ample photographic opportunities.
"Biodiversity: Bugs, Bats, Herps & More" will be held from July 12 – 19, and led by Ray Mendez, who has studied Trinidad's natural history for decades and serves on the Board of Directors at AWNC. The Asa Wright Nature Centre is best known for its amazing tropical birds, but Trinidad also hosts incredible non-avian biodiversity. Seminar attendees will explore Centre grounds on night walks seeking tree frogs, snakes, scorpions, and other nocturnal lurkers. They will witness thousands of bats roosting in Tamana Cave, where participants will discover other creatures living in permanent twilight. The caste system of ants, with particular attention to leafcutter ants, will be studied.
Bill Murphy, author of "The Birdwatcher's Guide to Trinidad & Tobago," will host the last of the summer series from July 19 – 26, with an optional extension July 26 – 28 to Grande Riviere to see nesting Leatherback turtles and the endemic Trinidad Piping Guan. Bill has designed this trip seminar to maximize time afield while teaching the fascinating ways of birds that never experience winter. He has chosen exciting destinations for field trips, several not featured on regular tours. Bill will share his knowledge of tropical birding, from the evolution of species to communication and territoriality.
Tours are based at Trinidad's world-renowned Asa Wright Nature Centre. Past travelers have treasured the Centre for its unmatched views of colorful birds of Trinidad's Northern Range forest. Many past participants report seeing 30 or more bird species before breakfast on their first morning.
Caligo Ventures' Trinidad Birding and Nature tours begin and end at Port of Spain airport, Trinidad, and are limited to 14 participants. For more information on this special summer series, see http://caligo.com/trinidad-tobago-summer-seminar-series/.
About Naturalist Journeys
Naturalist Journeys is a nature-travel company based in Portal, Arizona. They strive to support eco-tourism throughout the U.S. and beyond, through small-group guided journeys, often in co-operation with local non-profit groups and communities.