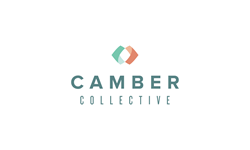 "We are excited to announce the merger with Hope Consulting and to come together with a firm that shares our unique approach to partnering with clients."
Seattle, Washington (PRWEB) July 07, 2015
Seattle-based SwitchPoint and San Francisco-based Hope Consulting announced today that the two firms have merged to form Camber Collective. Camber Collective provides strategic advisory services to organizations in the social, health and biopharma sectors. The merger combines SwitchPoint's strategy consulting expertise with Hope Consulting's deep experience in customer insights, philanthropic effectiveness and marketing communications. The combination will enhance Camber Collective's recognized ability to help foundations, non-profits, government agencies, health systems, corporations and early stage companies achieve high performance against both financial and mission-related goals.
"We are excited to announce the merger with Hope Consulting and to come together with a firm that shares our unique approach to partnering with clients," said Brian Leslie, SwitchPoint Co-Founder and Partner. "We have been partnering with Hope Consulting since late 2014 to deliver client engagements with our shared approach, which is based on three principles: leading with listening, working shoulder-to-shoulder with our clients to solve problems, and activating strategy so that plans become real change."
"The merger with SwitchPoint represents a tremendous opportunity for us, and for our clients," commented Hope Neighbor, Founder and CEO of Hope Consulting. "Many mission-driven organizations are seeking a deeper understanding of the people and communities that they are trying to reach, and are trying to translate these insights into strategy and operations. The merger with SwitchPoint expands our ability and our capacity to help clients to navigate these challenges."
SwitchPoint was founded in 2009 and has been recognized by the Puget Sound Business Journal as one of the fastest growing companies in Washington State and one of the best places to work for the last three years. Hope Neighbor is a recognized expert in philanthropy and has been profiled as a social entrepreneur by Fast Company. Hope Consulting was also founded in 2009 and its work has been cited in major media outlets including the New York Times and The Economist.
Camber Collective has a team of over 20 professionals who are based in Seattle, San Francisco and Paris. For more information, please visit http://www.cambercollective.com or contact Brian Leslie, Partner, at brian(at)cambercollective(dot)com.
About Camber Collective: Camber Collective is a strategic advisory firm that serves clients through two practice areas: Camber Impact Advisors and Camber Health Advisors. The firm's current and prior clients include the Bill & Melinda Gates Foundation, the William & Flora Hewlett Foundation, the David & Lucile Packard Foundation, the World Bank, PayPal, Population Services International, PATH, Swedish Medical Center, Group Health, Delta Dental of Washington, and the United States Agency for International Development (USAID).