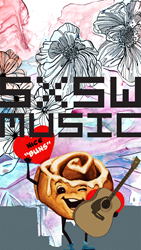 Bend, Oregon (PRWEB) March 05, 2015
This year's South by Southwest (SXSW) show can kiss boring texts goodbye thanks to new SXSW-inspired text enhancers found on addictive art mashup app JUJU, announced today by Good Juju, a Bend, Oregon company.
Just in time for friends and colleagues to connect more creatively in Austin, Good Juju will help take this year's show to a new level of awesome.
Available in the iTunes store for free, the app invites users to play with real, licensed, engaging art (no clip art or emoji here), and within a few swipes create a JUJU.
Users can adorn roaring lion art with a hip set of antlers, for example, and add a mantra (Don't Mess with Texas, or Get to this Show, now!), creating a unique, visually stunning art-message.
A JUJU can be added to a text message, to the amazement of the recipient, or to social channels, for the admiration of all.
A must-download among new mobile apps for SXSW 2015, JUJU is an addictive art mashup app that adds meaning and emotion to SMS, a channel saddled by the flatness and lifelessness of abbreviated text.
Sending greetings to kids and spouses at home, in the unforgettable fashion that is JUJU's alone, is sure to be popular at this year's show.
PRESENTING AT SXSW 2015
The company also announced today that it has been selected to present on Friday March 13 at SXSW. The Meet Up, "Unlock Your Creative Potential with JUJU," features Julia Junkin, Good Juju founder and CEO, and Matt Kern, founder and president of Bloomcrush. The Meet Up takes place from 5-6:00 pm at the JW Marriott, 110 E 2nd Street, room 509, in Austin.
PRICING & AVAILABILTY
The JUJU app can be downloaded for free from iTunes and is iOS compatible. Curated, licensed art, in many forms and categories, is available for free, while themed "packs" are $.99-$1.99. The SXSW-themed pack is free and is expected to be available when the conference kicks off on March 13, 2015.
###