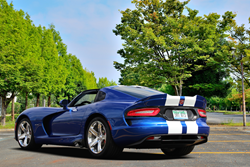 ...we received many inquiries as to whether we would create a targa; it was a natural evolution.
Rochester Hills, Michigan (PRWEB) May 22, 2015
Performance car enthusiasts and specifically… Dodge Viper owners speak passionately about what they are looking for in Viper branded vehicles, and Prefix has once again heard them loud and clear.
This week, Prefix released news that will they be proceeding with a targa conversion of the 5th Generation Dodge Viper. The conversion can be completed on any new or used Gen 5 Viper, directly through Prefix or any dealership, and provides owners with a body-colored, removable, carbon fiber roof panel that conveniently stores in the vehicle's trunk compartment for an open air experience. Current pricing for the targa conversion is $9,995.
As a tier 1 auto industry supplier, Rochester Hills, Michigan based Prefix Corporation has six Midwestern facilities including their 129,000 square foot state-of-the-art paint facility is where all 5th Generation Vipers are painted. Prefix is recognized throughout the auto and transportation industries as a premier source for prototypes and one-off models, as well as concept cars and even specialty vehicle creations for the film industry.
"We sincerely enjoy the friendships we have within the Viper community and appreciate hearing input directly from car owners and Viper Association members from around the globe." explained Prefix President, Eric Zeile. "After we released the Medusa convertible version of the Viper last summer, we received many inquiries as to whether we would create a targa; it was a natural evolution."
In addition to the targa and Medusa Vipers, the Prefix Performance team is also finalizing a series of performance upgrades for the Viper line up. Their 2014 acquisition of Arrow Racing Engines makes them uniquely qualified to design and create some seriously head-turning performance vehicles. A selection of modified Vipers will be on display at the Prefix Arrow Racing Grand Prix at the Pittsburgh International Race Complex on July 31st.
"We had already built an advanced painting facility for the Viper." Continued Zeile, "Our entire organization has a vested interest in keeping people excited about this amazing example of American muscle. We have the ability to engineer and develop these types of modifications correctly, so we will continue to listen to what owners are looking for."
Viper owners wanting to place an order for the targa conversion are asked to contact Prefix at: targa(at)prefix(dot)com. For additional information on Prefix and their performance vehicle division, visit: http://www.prefix.com